Webster At Home: Aurelia virtual choir; Philosophy Capstone via Webex; Musical theatre student project
Show us how you're working or teaching remotely during the coronavirus pandemic using the hashtag #WebsterAtHome with your social media posts.
Musical theatre taken to the streets
Conservatory of Theatre Arts student Alex Rudd completed a video project assignment utilizing the street and sidewalk of Old Webster in Webster Groves, performing the notable scene from movie Singin' in the Rain, a 1952 American musical romantic comedy film directed and choreographed by Gene Kelly. Although there wasn't any rain rain in sight during the shoot, Rudd still captured the essence of Kelly's iconic dance number on Lockwood Avenue, void of the usual traffic or pedestrians due to the coronavirus shelter-in-place directive.
"I hope this brings joy to people in our wonderful little town," said Rudd, a musical theatre major. "A BIG thank you to my parents, Ryan Bommarito, Ron McGowan, Michael James Reed and Lara Teeter."

Philosophy Capstone Colloquium on Webex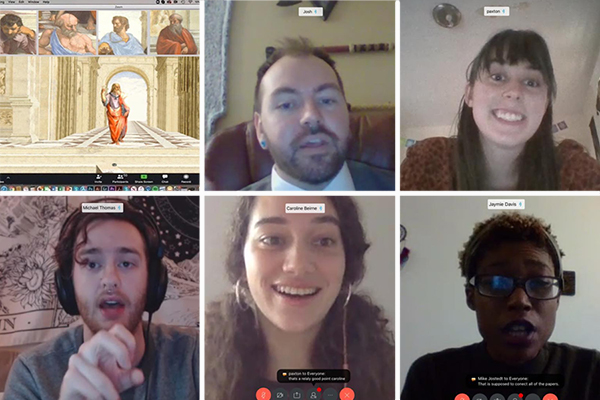 The Philosophy Department moved its traditional end-of-year Capstone Colloquium from Room 2 of Pearson House to WebEx this year. Students worked with Kate Parsons all semester to master Rosi Braidotti's book, The Post-human, which offers both an introduction and major contribution to contemporary debates on the our globally linked and technologically mediated societies.
After going over her work, students wrote papers applying her ideas to topics as varied as euthanasia, systemic racism, extended minds, intimate relationships, and COVID.
The remote format made it easier for friends and family to attend the discussion as well as for including our faculty who live elsewhere and only teach philosophy courses online.
Aurelia virtual choir performance

Members of Webster University's treble ensemble, Aurelia, gave a virtual performance of Elaine Hagenberg's "Song of Miriam." Adjunct Professor Nancy Mayo created the beautiful piano track while Assistant Professor Stuart Chapman Hill conducted the video.
Students were asked to recorded themselves performing the pieces and send it to Hill where he edited and consolidated the pieces together into a group performance.