Jameca Woody Cooper addresses racism and mental health on Webster Speaks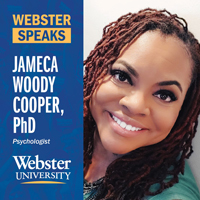 To be Black in America is to constantly walk on eggshells, to live within a construct of racial inequity, and the daily feeling of personal and secondhand trauma – issues that are only exacerbated by the effects of COVID-19. That is how Jameca Woody Cooper, Ph.D., MA, characterized the effects of racism on mental health in the Aug. 5 edition of Webster Speaks: Dialogues on RACE, EQUITY and INCLUSION.
"If you put all these things together, why wouldn't an African American person ...feel anxious, why wouldn't they feel depressed; and why wouldn't they feel traumatized based on these systems that they've been forced to endure in their lifetime?" she rhetorically asked show host Vincent C. Flewellen, Webster University's chief diversity officer.
Click here to watch the episode.
As a Webster faculty member and a therapist in St. Louis, "Dr. Jameca" is a respected member of the community but admitted that even she is not immune to the haunting effects of institutional racism.
"Even though I am a professional in this community, when I [hear] sirens and I see a cop following me, I'm instantly afraid. And I'm not just afraid like, 'Ooh, I'm going to get a ticket for speeding!'; I'm afraid and wondering if I'm going to make it home. That's a different level of fear," she said. "And when you wake up with that level of fear... wondering if you're going to make it home, wondering what's going to happen to you or your children, most people can't sleep at night. It's the type of thing that's implanted in your DNA. It gets implanted in your respiratory system in the way you breathe. It's implanted in the way you see each and every situation, so it's no wonder why so many people are depressed and anxious."
Much of that fear comes from policing tactics that carry a long history of racism. "It's more than a few bad apples. It's a lot of bad apples and the good apples are not doing anything to stop the bad apples," she said.
Whereas the church has always been an emotional rock for Black people – the concept of "pray it away" is still entrenched – more and more are shirking the stigma and seeking professional therapy. Woody Cooper said she is seeing a three- to four-fold increase in requests for counseling from the local African American community, and many of those prospective patients want to see a Black counselor.
"We're living at a time in our country when African Americans are very, very aware that they are not understood by the dominant culture, which is white culture," she said. "As a result of that they want to go to a place where they can seek refuge from these stressors and the day to day world. They want to go to someone to talk to who has a similar background and can understand the issues."
Dr. Woody Cooper also discussed how racism affects whites, pointing out that ruthless self-examination, and surrounding oneself with people of other races, is healthy – but it requires courage. "You have to step outside of everything you've done, everything you've been taught and everything you've known to want to do something different."
Woody Cooper emphasized that the counseling profession needs to attract more people of color to meet demand, but achieving that goal is complex. In addition to her counseling practice, Emergence Psychological Services, she serves as program director of Webster's Applied Educational Psychology and School Psychology program and is an adjunct professor of Applied Educational Psychology.
At the end of the episode, Chancellor Elizabeth (Beth) J. Stroble thanked Woody Cooper for her frank portrayal of racism as a stressor. "The deepest learning comes from a place of discomfort, and the deepest learning comes from a place where we ascent to learn that we are eager and hungry for the learning," Stroble said. "And deep learning is not a casual enterprise, and it is done in community and you highlighted that tonight."
Webster Speaks: Dialogues on RACE, EQUITY and INCLUSION is livestreamed biweekly via Cisco Webex. It was launched July 8 as a continuation of Webster's commitment to examining racial, social justice and equity issues. The next episode, "How the Media Cover Race" is at 7 p.m. CDT August 19 and features Carol Daniel, KMOX news anchor and president, Greater St. Louis Association of Black Journalists; and Eric Deggans, NPR TV critic and author, "Race-Baiter: How the Media Wields Dangerous Words to Divide a Nation."
Registration, while required, is free and open to the public at www.webster.edu/websterspeaks. Ask questions to any guest during or after the livestream using #WebsterSpeaks on Twitter. Previous episodes are also available on the registration page.