Webster Speaks Reflections: Hickman 'fundamentally changed' by experience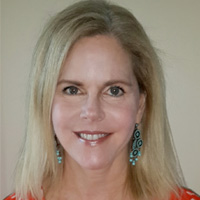 Marie Hickman served as the producer of Webster Speaks: Dialogues on RACE, EQUITY and INCLUSION. A writer, former television journalist and video producer who lives in Palm Harbor, Florida, she was asked to share her thoughts about what she learned from working on all 12 episodes.
My Reflections
James Baldwin, the late Black novelist, essayist and playwright, once wrote, "Not everything that is faced can be changed, but nothing can be changed until it is faced." That is what we have strived for in Webster Speaks: Dialogues on RACE, EQUITY and INCLUSION.
Begun in summer 2020 in response to what Time magazine calls America's Long Overdue Awakening to Systemic Racism, the virtual talk show aimed to look at race and social justice through the experience of its panelists, largely unfiltered and in a setting that resembled more of a dinner table conversation than a scripted show. We asked hard questions, looked for answers, and gathered unique perspectives.
I fully expected to learn and grow, but I did not expect to be changed as fundamentally as I was.
As a former reporter unaffiliated with Webster University, I initially approached the producer's role in the dispassionate way of journalists, seeing this as an assignment with tasks and a deadline. I saw it as the untangling of a complex topic, the telling of a sorry narrative that stretches back more than 400 years. As a mature white woman of some privilege, I fully expected to learn and grow along the way; but I did not expect to be changed as fundamentally as I was.
I did not expect to shed tears at Ferguson activists' stories. I was not ready for my visceral reaction to Dr. Jameca Woody Cooper – a poised, professional woman I could relate to — expressing her fear of traffic stops. I became engrossed in the generational struggles described by our first guest, St. Louis American publisher Donald M. Suggs. I came to appreciate the ground-level grit of community activism as carried out by Olympian Jackie Joyner-Kersee in East St. Louis, Urban League of Metropolitan St. Louis president Michael McMillan, and Greater St. Louis Inc. leader Valerie Patton. Cbabi Bayoc and Dail Chambers introduced me to other new Black artists.
Over the course of 12 episodes I learned something from every guest, as well as from my colleagues Vincent C. Flewellen and Earl A. McCoy, Jr. While I have long embraced the social justice movement and the meaning behind Black Lives Matter, Webster Speaks has helped me develop a deeper, more concrete understanding of systems, of struggle, and the need to actively fight for equity.
Perhaps the real value of this series has been the lessons it has taught white people like me, even those who consider themselves allies. As several guests have said, whites are always ready to insert themselves into the discussion on race: explaining, interpreting, personalizing, apologizing. Webster Speaks has invited people who look like me to simply watch and listen to panelists discuss Black truths with a Black host. Period.
Almost all the guests were from Black communities, but there were a few non-Black guests with wisdom to share, people who are activists in the modern civil rights movement. As I learned from the allies in episodes 8, 10 and 11, the internal work is never finished; the listening is never done; the lessons are never over; the opportunity for change is always a door wide open.
I am honored to have played a role in helping Webster University face, as James Baldwin said, the change that is needed. As a New Year's resolution, I encourage you to rewatch the series and support Diversity, Equity and Inclusion at Webster.
Webster Speaks
Webster Speaks is just one element of Webster University's continuing effort to create dialogues around inequity and justice issues. Join the community Feb. 23, 24 and 25 for the sixth annual Webster University Diversity, Equity and Inclusion Conference, featuring regional and national speakers from numerous areas of interest. They include Charlotte Clymer, a military veteran, transgender activist and a former press secretary at the Human Rights Campaign, and Patrisse Cullors, an artist, activist, author and co-founder of Black Lives Matter. Next year's conference will be online. Details will be listed soon at webster.edu.