Webster Speaks: Suggs Scholars Reflect on Coming of Age in the Black Lives Matter Era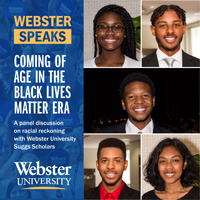 The most-watched, most discussed episode of Webster Speaks: Dialogues on RACE, EQUITY and INCLUSION opened the floor to young voices on Sept. 16. Host Vincent C. Flewellen, Webster's chief diversity officer, interviewed four Webster Suggs Scholars in an extended episode titled "Coming of Age in the Black Lives Matter Era."
Brothers Jovan McBride, 21 and Jalen McBride, 20, Tekoa Bell, 19, and Brennae Jackson, 19, talked about being Black students at a predominantly white institution (PWI), activism, advice for white allies and other topics.
The students were in middle and high school when Michael Brown Jr. was shot and killed in Ferguson six years ago, and they have been surrounded by a steady drumbeat of activism ever since. "[Ferguson] shook me as a child because I didn't really understand what was going on, but I did understand the rage that all the protestors and rioters were feeling," said Brennae Jackson, who is majoring in Secondary English Education and Spanish. "It was scary."
Confident in their feeling about activism, the students don't hesitate to explain the meaning of the slogan, Black Lives Matter. Jovan McBride, a senior majoring in Human Resources Management and Leadership, used this analogy: "If I got to the doctor and say, 'Hey, doctor, my knee hurts,' he's not going to say, 'Well, Jovan, all your bones matter … 'Yeah, but I'm talking about this particular bone in my knee.' That's why Black lives matter."
Referencing the 1969 Nina Simone anthem, "To Be Young, Gifted and Black," he expressed a pervasive sense of fatigue. It is tiring, he and the other students said, to be exalted as role models yet constantly judged.
"I'm still fighting, I'm still fighting," said Jovan McBride. "I still have to prove myself. It gets tiring sometimes because you realize that some people are just going to see you as your color."
"People have a preconception of how you are supposed to be and supposed to act," said Jackson. "It's like having to be the voice of every black person… I don't have all the answers to questions they want to raise."
The students, all recipients of a Webster scholarship honoring St. Louis American publisher Donald M. Suggs, described a sense of loneliness and otherness being in a predominantly white college. Still, they praised Webster for fostering an inclusive and caring environment.
"I've had professors and faculty at Webster who just call me to say, 'Hey, I was thinking about you. I've been hearing what's going on in the news and I want to make sure you're okay.' That went miles for me just to know that I wasn't by myself in this," said McBride.
McBride says undergraduates of color need to reach out to one another if they feel isolated at a PWI. "I try to make people feel they are not alone," said McBride. "I would like to be someone's light to make them feel less alone."
The students acknowledged the importance of white allyship but want it to be genuine. Tekoa Bell, a Political Science major, warned against what she called "performative wokeness," in which white people pay lip service to social justice but do not follow up with meaningful action. "People are hashtagging it and calling themselves 'woke' but they aren't doing what they're saying they're going to do," said Tekoa Bell.
Jackson's advice to allies is to listen and learn: "Close your mouths and open your ears," said Jackson. "When people of color are talking about their experience, white people always feel the need to say what they feel about what you're saying. It's not about what you think I'm saying… It's about the literal words that are coming out of my mouth."
Jalen McBride added, "It's very difficult to change, so what I want to do personally is lead them to at least consider what we are saying. No one changes overnight."
Chancellor Elizabeth (Beth) Stroble concluded the show with a reflection, thanking the students for opening eyes and minds.
"Webster Speaks cannot be a truly authentic Webster Speaks without the voices of our own students," said Stroble. "Thank you for giving us the opportunity to listen, for your courage and bravery and clarity around these tough conversations. I am just grateful, and I am proud. I am proud that you are Webster students."
Host Vincent C. Flewellen closed the show by announcing 10 incoming freshmen who have received Suggs Scholarships.
To find out why the show panelists chose their particular majors, their thoughts on civil disobedience, and their advice for college-bound students of color, watch the full episode on webster.edu/WebsterSpeaks.
Next Episode of Webster Speaks
The next episode is at 7 p.m. CDT on Sept. 30 and will focus on "The Power of Street Activism" with three organizers of the 2014 Ferguson protests: Alisha Sonnier of Tribe X, Alexis Templeton of Millennial Activists United, and Tory Russell, mission director of the International Black Freedom Alliance and an organizer of the Ferguson October protest,
Beginning with that episode, Webster Speaks will use the Zoom streaming platform. Registration is required but is free and open to the public. Ask questions while registering or on Twitter using #WebsterSpeaks.