Webster World Report Podcast 13: International relations expert panel, international student perspective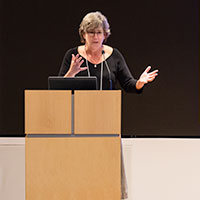 The 13th edition of the Webster World Report, the discussion linking Webster University's global operations during this year of crises, includes a panel of international relations experts from three different continents, all of whom are professors in the Webster worldwide system. The international relations professors include: Kelly-Kate Pease from the main campus in Webster Groves, Robin Ramcharan from Webster University Thailand and Jozef Batora from Webster Vienna Private University.
This expert panel discusses how the pandemic is changing the global order. Other topics included how U.S. international relations have changed during the Trump administration and the role of the United Nations in examinations of police brutality.
The program also features the perspectives of Erika Gavilanes, an international student from Ecuador studying in the U.S. The news segment of the program features highlights from the opening Convocation of the Fall Semester, and excerpts from the new "Webster Speaks" series, discussing racial issues in the media, and how Black athletes cope with racism in the U.S.