Webster Alumni, Students Honored at Excellence in Education Awards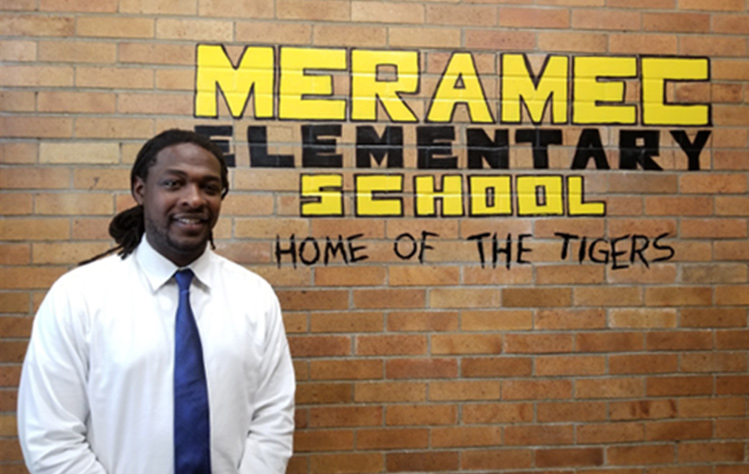 Webster University School of Education alumnus Jonathan Strong is one of five educators in the region who will be honored during the 34th annual St. Louis American Foundation Salute to Excellence in Education Scholarships & Awards Gala.
The 10 newest Webster University Suggs Scholars will also be honored at the annual event on Friday, Nov. 5, 2021.
Strong, the principal of Meramec Elementary in St. Louis Public Schools, earned a Master of Arts in Teaching from Webster's School of Education in 2007, and an Educational Leadership Certificate from Webster in 2011. He holds a bachelor's in Elementary Education from Alabama A&M University.
Before joining St. Louis Public Schools, he served as an assistant principal in the Maplewood-Richmond Heights School District, and as a literacy coach Title 1 reading instructor, and fourth-grade teacher at Confluence Academy. Additionally, he taught at Thurgood Marshall Academy.
"Education has always been my chosen career path," Strong told the St. Louis American, adding that it's also a family legacy: "My grandmother was a school teacher in Natchez, Mississippi and my mother taught special education for St. Louis Public Schools for over 25 years."
Besides the recognition of Strong, the 10 newest Webster University Donald M. Suggs Scholars also will be recognized during the virtual gala. The newest Suggs scholars are:
MJ Antenor, Fox C-6 High School
Aanihya Beckwith, Lift for Life Academy
Alinka Bringas, McKinley Classical Leadership Academy
Theodore Dang, McKinley Classical Leadership Academy
Emerald DuBose, Lift for Life Academy
Nysa Gilchrist, Wentzville Holt High School
Rachel Jackson, Metro Academic & Classical High School
Matthew Nguyen, Francis Howell High School
Jason Pho, Collegiate School of Medicine and Bioscience
Paige "Kita" Spearmon, KIPP St. Louis High School
This is the second year that Webster has awarded 10 students a Suggs Scholarship. The scholarships are offered to academically talented undergraduate students from ethnic groups that are under-represented in higher education. The scholarship is in the name of Dr, Donald M. Suggs, publisher and executive editor of The St. Louis American.
Webster University began awarding two of these scholarships annually in 2013 but increased the number to 10 last year, representing a $1 million increase in scholarships awarded by the University. As a scholar, the students will have their tuition costs covered, receive additional funds for books and other associated costs, and will be offered access to special academic events.
The Webster University Suggs Scholarship was founded in 2013. There currently are 31 Suggs Scholars, including 24 currently enrolled students.
The Salute for Excellence will be streamed online at 7 p.m. CDT Friday, Nov. 5.