Webster Alumna Served Key Position in Race for U.S. President
Webster University alumna Dalmyra Price Caesar '06 was sitting at her desk at her job at a construction company in Washington, D.C., when she received an unexpected email from a person she had never met.
"The chief of staff for Joe Biden's campaign reached out and asked if I would like to apply for a job," Caesar said. "I am not exactly sure how she found me, and I still haven't asked her the question. But I'm grateful because that message started an amazing journey."
Within weeks of that email, Caesar interviewed for and was offered the role as the Director of Human Resources at Biden for President. From October 2019 through November 2020, she had a front-row seat to watching what many are already calling the most successful presidential campaign in U.S. history, attracting more than 80 million votes, more than any other candidate who has run for that office.
"I credit my entire human resource career thus far to Webster University," Caesar said. "Because of my degree from Webster, I have been able to think critically and perform in a manner that has helped to improve every organization."
Caesar was born in Rockledge, Florida, but grew up in Blakely, Georgia. She attended Georgia Southern University and earned a bachelor's degree in business administration in 1995. That same year, she enlisted in the U.S. Army under the Army's Loan Repayment Program. During the next 20 years, she pursued a career in the U.S. Army, serving as a finance specialist and then as a human resource manager in the Adjutant General Corps. This included a stint in Iraq where, as a captain, she met Gen. Lloyd Austin III, who also is a Webster graduate and was recently sworn in as Secretary of Defense by President-elect Joseph Biden.
"Gen. Austin is an incredible leader, and I am so excited that every American will have an opportunity to know him and the entire Austin family," Caesar said. "I have not met his wife, but I have heard that she is an incredible woman. We are members of the same sorority, Delta Sigma Theta Sorority, Inc., and it's worthy to note that Congresswoman Marcia Fudge, who was nominated by President-elect Biden to be Secretary of Housing and Urban Development, is also a member of the sorority."
Since then, another Webster graduate has also joined the Biden team. Jessie Lawder was sworn in as the deputy assistant secretary of Labor for Public Affairs in January.
While still in the service, she enrolled in Webster University's Master of Arts in Human Resources Management and Human Resource Development program. But then tragedy struck; her first husband died. Despite this emotional setback, she was offered support that helped her complete her master's degree.
I credit my entire HR career to Webster. I've been able to think critically and help improve every organization.
"I specifically want to thank the Naval Air Station Jackson, Florida, educators for their patience with me during a difficult time in my life, as I could not have made it through without their support," she said.
She retired from the Army in 2015 and stayed home for "a little while" with her daughter and second husband, who also served in the U.S. Army.
"I soon found that I love being in the workplace," Caesar said. "I have always had an interest in serving people and organizations. My motto is if you take care of people, the people will take care of the organization, so a career in human resources seemed to be a natural fit."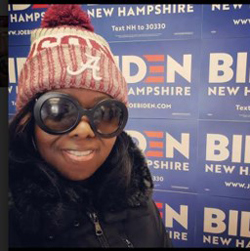 By the end of 2015, she accepted a job as a retail store manager in training at the Goodwill store in Pooler, Georgia, but her talents caught the eye of others. Within a few months, she was put in charge as the training and development director for Goodwill of Southeast Georgia. That led to other jobs which eventually landed her as a Human Resources Director at the regional construction company in Washington, D.C.
And then came that email.
After gladly accepting the job with the Biden campaign, Caesar found herself as the head of a two-person team who oversaw more than 4,000 employees in all 50 states. Together, they worked with every campaign department manager in recruiting and hiring the most diverse team ever in a presidential campaign. They also worked closely with the legal teams in each state to make sure that they were complying with the labor and employment laws in all 50 states. "We displayed amazing teamwork, which worked well for the campaign and coordinated state operations."
At first, she worked in an office at the Biden for President headquarters, but then the pandemic struck, and she shifted to working remotely at home. "There were a lot of Zoom calls, but we all found ways to adapt to the new normal and made everything work well despite the different locations. We were kept very busy."
When the campaign ended on election day, she, like so many others, watched the election returns slowly come in over the next week, a process she found to be stressful. "I coped a lot by doing a lot of running, reading and listening to positive music, because I knew I had to remain positive so that the rest of our team could also be positive," she said. "I also kept the faith, retained my hope in the amazing team of Biden and Harris, and watched as every vote was counted."
When the final state reported that Biden had won, she cried "happy tears" and called many of her family and friends. The transition took over shortly afterward, which she was not involved with, but she keeps in touch with members of the campaign and is hoping to find a position in the White House continuing in a human resources-related roll.
"Fingers crossed," she said. "But even if I don't find a new position, it was an amazing opportunity and experience."
And through her experience, she has advice for current students. "Work hard and do not be afraid to say yes to opportunities that help you to grow and develop as an HR professional. This philosophy took me from the Army to retirement to working as the director of human resources for the soon-to-be 46th President of the United States of America, Joseph R. Biden, and I can honestly say I never predicted that path in my life."