MBA Alumni Awarded Badges for 30th Anniversary of Uzbekistan Independence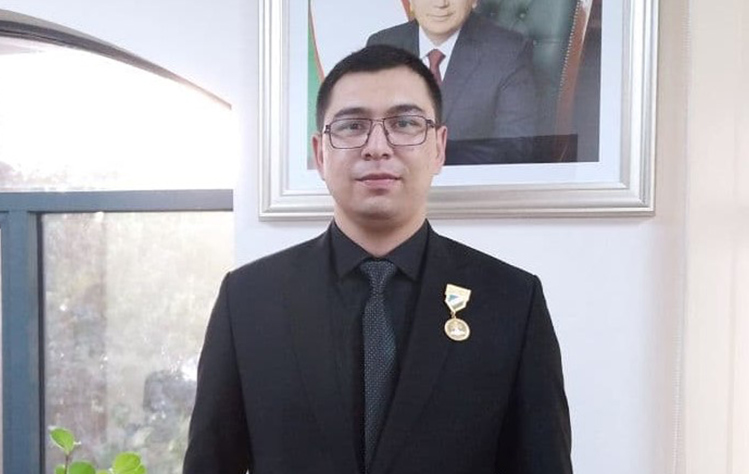 Two alumni of Webster University in Tashkent, Ibrokhim Akhmadkhonov (MBA '20) and Abdullo Tursunov (MBA '20), were awarded commemorative badges as a part of the celebrations of Uzbekistan's 30th Independence Day. The badges were presented at ceremonies in all ministries, state organizations, public associations, regional and municipal government. Lists of candidates were provided by their respective organizations and approved by the Cabinet of Minister of the Republic of Uzbekistan.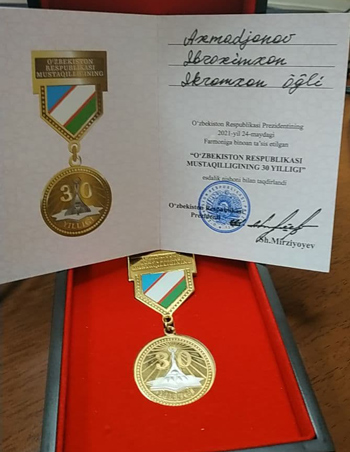 Tursunov was presented the badge as a Head of Division at Aloqa Bank, one of Uzbekistan's major joint-stock commercial banks. Akhmadkhonov (pictured above) was awarded the badge in his capacity as the current deputy head of the International Financial Reporting Standards Department at the Ministry of Finance of Uzbekistan. He assumed this position shortly after earning his MBA at Webster Tashkent.
Akhmadkhonov says that he did not expect to receive the badge, as it was an ordinary work day. However, the Minister of Finance both congratulated his staff and then announced the employees who had been chosen. "I was very happy to be on this list," he said. "I think this [badge] is a great trust and responsibility given to me."
The commemorative badges, titled "O'zbekiston Respublikasi Mustaqilligining 30 yilligi" (30th Anniversary of Independence of the Republic of Uzbekistan), were presented to people singled out as special contributors to national development and international standing. The categories of citizens and friends of the country spanned from teachers and doctors to businesspeople and policymakers.