Spotlight: Justin Guyton MBA '13, VP of Alumni Association Board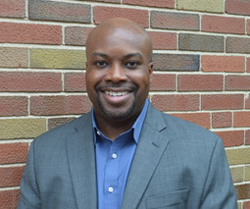 Back in 2010, Justin Guyton was busy working in the service division at Edward Jones. He recognized he needed an MBA to grow his career. "I had been thinking about getting my MBA for some time when I saw an ad online for an informational meeting at Webster University. So, I looked into it."
Justin attended the info session and then applied to Webster's MBA program. The different campus locations and online classes provided just the right flexibility for his busy schedule. Webster's academic reputation was what he needed to advance in his career. "Completing my MBA in 2013 definitely opened doors for me. I know it was an important factor in getting my current job as a business analyst for Charter Communications."
Justin's student experience at Webster was positive and the networking opportunities available were a reason to stay involved as an alumnus. "I built friendships with other Webster alumni and became involved in the Alumni Association. These relationships have helped me grow professionally."
In 2018, Justin became a Vice President on the Alumni Association Board. "People are the reason I am a part of the Board. The Board is committed and passionate about helping alumni, keeping them involved with the university, and developing a global approach to the Board's focus."
I have benefited from my Webster experiences so much. I want to share that with students who may also grow...
Career Webinars, Networking and Mentoring Opportunities
Specifically, Justin points to the Career Webinars that the Alumni Association sponsors. He notes that the COVID pandemic has created space for people to network outside of their typical groups and seek information on subjects that are very relevant, such as How to Network from Home, How to Transition from the Military to Land a Civilian Job, and How to Answer Interview Questions.
Another area of interest is joining the Mentoring Program at Webster. Justin has signed up to become a student mentor. It's just another way for him to help someone else and express his passion for Webster University.
"I have benefited from my Webster experiences so much," he said. "I want to share that with students who may also grow because of my experience and insight."
If you are interested in learning more about the services available to you as a Webster University alum, Justin encourages you to check out the Alumni website. "I've gained so many friends and made many great connections since I was a student. I hope everyone will take advantage of the opportunity to be an active member of the Alumni Association."