Webster University Chess Coach Susan Polgar to Retire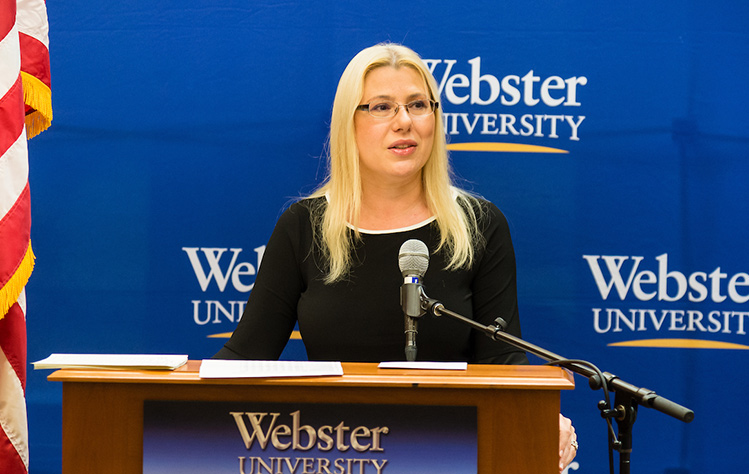 Susan Polgar, one of the most celebrated chess players in the world and the most successful college chess coach in U.S. history, will retire this year. She and her husband, Webster University Assistant Chess Coach Paul Truong, are moving to Florida to be closer to family and for health reasons.
Polgar will retain the title of emeritus director of the Susan Polgar Institute for Chess Excellence (SPICE) which will remain at Webster University. Her role as chess coach will be filled by Webster alumnus and chess grandmaster Liem Quang Le. Her last day at Webster will be May 31.
"Susan Polgar and Paul Truong were instrumental in Webster University becoming a powerhouse on the college chess circuit which further boosted Webster's reputation as an institution that is home to creative, talented and smart students," said Webster University President Julian Schuster. "Susan and Paul's valiant efforts created a lasting legacy of Webster University's name becoming synonymous with chess excellence.
"We are grateful for their selfless devotion to Webster's success, both as a home of the best collegiate chess players and a place where students excel academically," Schuster added.
Polgar was born in Hungary and, along with her sisters, was introduced to chess by her father at around 4 years old. Shortly after that, she won the Budapest Championship for Girls under 11 with the perfect score of 10-0. By the age of 15, she was already ranked as the top woman player in the world. Polgar would remain in the top three for female players for the next 25 years. In 1986, while still a teenager, Polgar made history by qualifying for the "Men's" World Chess Championship but was not allowed to play due to her gender. By 1991, she broke the gender barrier by becoming the first woman in history to earn the title of "Grandmaster" by norms and rating. The next year, she won both the Women's World Blitz and the Women's World Rapid Championship.
We will keep on recruiting new players for Webster whenever possible. We will always be Gorloks at heart.
In 1996, Polgar won the Women's Classical World Championship, and became the first player, male or female, to win the Chess Triple-Crown. In 2002, she organized and trained the official U.S. Women's Chess Team for the 2004 Olympiad. She won 12 Olympiad medals in her career, including 5 gold medals and the first Olympiad team medal for the United States. She currently holds the longest consecutive scoring streak at the Olympiad - 56 games without a loss.
In 2005, Polgar played at a large simultaneous chess exhibition and broke four world records during that event:
Playing the most simultaneous games – 326, winning 309, drawing 14, and only losing 3.
Playing the most consecutive games– 1,131
Winning the most games at an exhibition – 1,112
Earning the highest winning percentage – 96.9%.
She married Truong ― her business manager ― in 2006. In 2007, Polgar founded SPICE, and was named the head coach of the Texas Tech University chess team, and in 2011 and 2012, she led the team to consecutive national championships, making her the first female coach to lead a men's division I team to a national title.
In 2012, she and Truong were hired by Webster University as coach and assistant coach after President Schuster (then the provost) convinced the two to help Webster establish a team. "We already knew Julian, who is an excellent chess player, and he clearly understands the incredible benefits of chess," Truong said.
"We knew about his love of chess and this was a unique opportunity we could not pass up. And it was a huge difference. One day we were working at a university where some of top-level administrators didn't even know where our office was, and the next we were at Webster where the President, Chancellor and so many others showed up to express support and let the students know that they were appreciated."
Polgar and Truong would lead Webster's team to a record five consecutive Final Four national chess championships, from 2013 to 2017. They also coached the team to place first in eight out of the past nine Pan-American Intercollegiate Chess Championships, including seven in a row from 2012-2018.
"I believe that we helped set a college chess record that will never be broken," Truong said. "Webster's team has been ranked the top team in chess for a record nine straight years. Team members also captured 65 national team and individual titles, multiple Olympiad Gold medals, two World Championships, and five World Open Championships. Our students have won more than all the players on all the other teams combined. No one comes close to our record, and it's likely the team will be ranked #1 next year, even with Susan's retirement."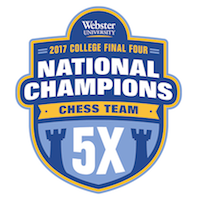 "Susan is a world-renowned chess champion and a champion for the opportunities that chess creates for young people, especially girls," said Webster University Chancellor Elizabeth (Beth) J. Stroble. "She lives a passion for the educational benefits of chess for all, without limitation. I admire the global community of girls that she convened for annual invitational tournaments on the Webster campus and know that because of Susan, their lives and futures are stronger. We know her contributions to Webster are record-breaking; her impact on young chess players is immeasurable."
Because of her records as a chess competitor and her work with Webster's chess team, Polgar was inducted into the U.S. Chess Hall of Fame in 2019. She will soon be inducted to the World Chess Hall of Fame as well.
Polgar will be replaced by chess grandmaster Le, a former captain of Webster's chess team. During his four years as the leader of the team, Le helped the team win four of Webster's five Final Four Championships, and four of the eight PanAm Intercollegiate titles. Le graduated summa cum laude in 2017 with a Bachelor of Science degree in finance and a Bachelor of Arts degree in management. Since graduating, Le has placed first or second place at several national and international chess tournaments. He is currently ranked among the top 35 chess players in the world.
As for Polgar and Truong, the two said they will keep in touch with the University and help support Le.
"I am extremely grateful for my time at Webster University and for being able to build and lead the top-rated collegiate chess team for the past nine years," Polgar said. "I want to thank everyone at Webster University for showing support and kindness to Paul and myself.
"And we will keep on recruiting new players for Webster whenever possible," Polgar added. "We will always be Gorloks at heart."