Joyner-Kersee Named 2021 Commencement Speaker; Virginia Jackson Browning to Receive Honorary Degree
ST. LOUIS -- Jackie Joyner-Kersee, the "Greatest Female Athlete of the 20th Century," has been named the Commencement Speaker for Webster University's 102nd Commencement, to be held virtually on Saturday, May 8, 2021.
As part of that day's online ceremony conferring degrees to the Webster University Class of 2021, Joyner-Kersee will be awarded an honorary Doctor of Humane Letters and Virginia (Jinny) Jackson Browning will be awarded an honorary Doctor of Laws degree.
"We are honored to recognize these two legendary women at our signature Commencement event," said Chancellor Elizabeth (Beth) J. Stroble. "Their impact in St. Louis and beyond is a source of inspiration. As they have excelled in their life's work, they have intentionally expanded the opportunities for learning and achievement for members of their communities. Indeed, their work has made it possible for people of all ages to gain access to education, sports, culture, and lifelong learning. We admire their accomplishments as well as their leadership and generous sharing of their talents to benefit others."
"In her role as an athlete and as a philanthropist, Jackie Joyner-Kersee has inspired millions with her efforts for children's education, racial equality and women's rights," said President Julian Z. Schuster. "She continues to excel in everything she does and redefines the meaning of being 'the greatest ever!'"
"And the passion, dedication, and vision of Jinny Browning redefined the artistic landscape in St. Louis and left a lasting imprint on sciences at Webster University. To put it simply: St. Louis and Webster would not be the same without Jinny Browning! We are delighted to feature both of them as our students, faculty and staff celebrate the Class of 2021."
Jackie Joyner-Kersee, Doctor of Humane Letters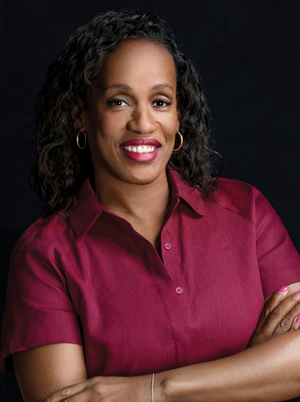 Joyner-Kersee is a six-time Olympic medalist, including three Olympic gold medals. Throughout her career and over four Olympic Games, she dominated the Olympic heptathlon and long jump events. The World Heptathlon Record she set at the 1988 Olympic Games in Seoul, South Korea, still stands today, over 30 years later. Sports Illustrated named Joyner-Kersee the greatest female athlete of the 20th century.
Her post-athletic career has been marked by major contributions and leadership as a philanthropist and a tireless advocate for children's education, health issue, racial equality, social reform and women's rights. In 1988, she established the Jackie Joyner-Kersee Foundation as the vehicle through which she provides youth, adults and families with the resources to improve their quality of life.
In 2000, the Jackie Joyner-Kersee Foundation raised over $12 million to build The Jackie Joyner-Kersee Center, a 41,000-square-foot facility with 1,200-seat gymnasium on a 37-acre site. The center fulfills the largely unmet need for youth recreation and sports venues in East St. Louis. In 2007, Joyner-Kersee, along with a number of well-known pro athletes, founded Athletes for Hope, a charitable organization, which helps professional athletes get involved in charitable causes and inspires millions of non-athletes to volunteer in community support.
A dynamic public speaker, Joyner-Kersee continues to be a sought-after motivational speaker and voice for the issues affecting 21st century global society. Webster University presented her with the Champion For All award at its 2019 Diversity, Equity and Inclusion Conference. In January she was a featured speaker at the African Renaissance and Diaspora Network's (ARDN) Second Women of the Diaspora Summit: Economic Equity, and ARDN has now asked to serve as a Good Will Ambassador.
Virginia (Jinny) Jackson Browning, Doctor of Laws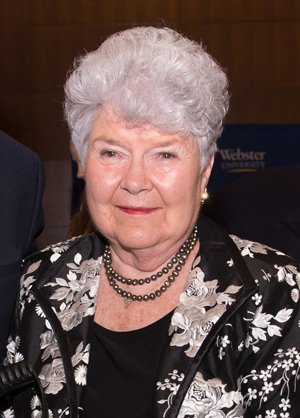 Virginia (Jinny) Jackson Browning is a longtime friend of Webster University who is known for her support of education, science and the performing arts throughout the St. Louis region. She and her family, including her late husband, former Webster University trustee Larry Browning, and their daughters, have provided essential support to landmark institutions including the St. Louis Science Center, the Sheldon Concert Hall, the St. Louis Symphony, Opera Theatre of Saint Louis, and the Repertory Theatre of St. Louis, the latter for which she also served on the board of directors.
At Webster University, Jinny Browning and her family have supported scholarships and professorships, the Community Music School and the Emerson Library, and other major initiatives that will have a lasting impact on Webster students for generations. The main stage of the Webster University Loretto-Hilton Center was named the Virginia Jackson Browning Theatre in 2002. The newest building on Webster's main campus, Browning Hall, the Interdisciplinary Science Building, is named in the family's honor and in recognition of their support for the building's construction. The family previously established Webster's first endowed science faculty position, the Laurance L. Browning, Jr. Endowed Professor in Biological Sciences.
Webster University's Class of 2021 is expected to include nearly 5,000 graduates from its campuses on four continents around the world. The University's annual main ceremony takes place in St. Louis, where Webster was founded in 1915. Details for graduates and families will be posted at webster.edu/commencement.