Asian Culture Events Held as Part of International Education Week
Looking forward to the return of international travel, the Webster University Confucius Institute (WUCI) and campus partners celebrated International Education Week on campus by connecting students to Asian culture and expertise Nov. 15-19.
Highlighting the week were announcements of a new course: Discovering China in St. Louis (ILC 2150). The class will meet four times to explore St. Louis destinations with ties to Chinese art and culture. Students will embark on a discovery tour of Chinese and Chinese-American culture through the lens of historical artifacts collected by museums, galleries, and gardens in our own city—St. Louis. Class lectures will provide background knowledge; guided tours led by experts will deepen students' understanding of Chinese culture and history.
Tea Time
No discussion of Chinese culture would be complete without tea. Students enjoyed a delicious tea break on Nov. 16 when the Webster University Confucius Institute and Study Abroad office treated more than 200 Webster students and community members to free boba tea from a local Taiwanese bakery store, The Foundry Bakery.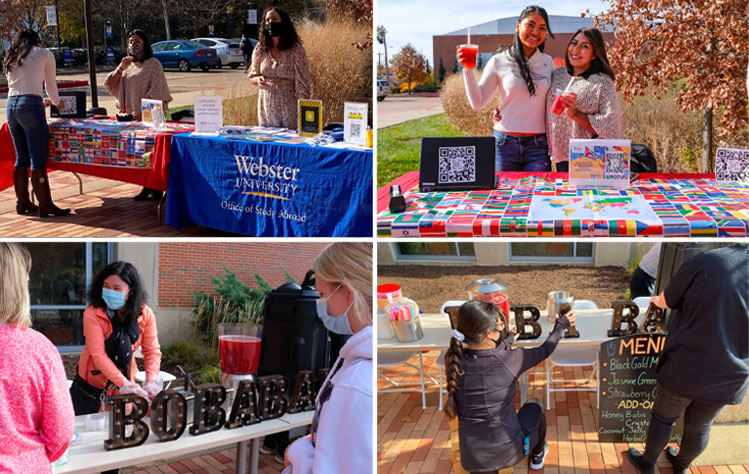 Above: Webster Mandarin class students helped to set up Boba Bar; The International Student Association and Office of Study Abroad gave out information on upcoming programs and events.
The two bakery owners, who emigrated from Taiwan and Vietnam respectively, were on site. In addition to sampling tea, student learned about courses, cultural programming and opportunities to study aboard and also got to know the newly formed International Students Association and understand all it will offer.
Virtual Tai Chi
Twice during the week, students and others could turn to Zoom for relaxation with virtual Tai Chi classes. Master Violet Li focused on mind, body and breathing exercises. Combining the controlled breathing with graceful movement, exercises such as "Inhaling the cloud, exhaling the mist" and "Melting the snow and ice," allowed participants to experience the Chinese form of relaxation and low-impact exercises.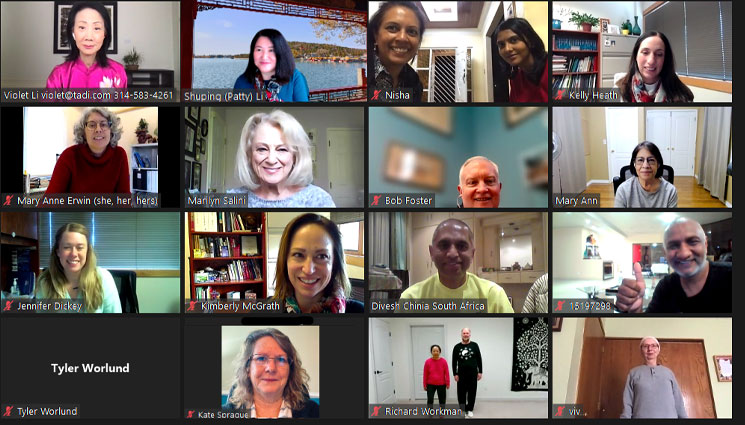 Language Teaching Workshop
For the final program of the week, WUCI and Beijing Language and Culture University jointly presented "Language Teaching Workshop - Beyond the Communicative Approach: Language Teaching and Learning in the Post-Method Era."
Yale University Senior Lector II of Korean, Angela Lee-Smith, Ph.D., told a global audience of 85 (via Zoom) that modern students learn language best in a project-based course, rather than through traditional work in memorization, grammar rules and stilted vocabulary exercises.
The projects are intended to use hands-on activities that are authentic and relevant to students as a framework for communicating in the target language. Her extensive portfolio of student projects included memes, storymaps, song lyrics, web-cartoons, oral histories and many other formats. Dr. Lee-Smith explained she distinguishes "projects" from "tasks" because students seek to create projects that generate "a real impact on the world."
The multimodal learning format appeals to modern students, generates enthusiasm and helps build 21st-century skills, she noted.
"Students can express and share their feelings, emotions, stories, and messages through multimodal projects -- it brings the community together," she said. "Students can explore multiple modes of meaning-making in real-world contexts --learning by doing."
International Education Week (IEW) is an annual nationwide celebration of international education and exchange.
"Webster University Confucius Institute was pleased to celebrate international education with our community," said Li. "We look forward to expanding the program and bringing more international students into the week-long celebration next year."