Ryan Guffey Named Director General for Global Campuses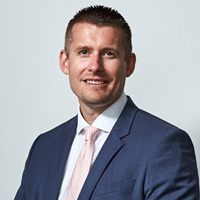 Webster University President Julian Schuster and Vice President for Academic Affairs Nancy Hellerud are pleased to announce that Ryan Guffey has been named Director General for Global Campuses. As director general, Guffey will provide leadership and strategic direction for Webster's international branch campuses and global locations where Webster academic programs are offered. In addition, he will be responsible for exploring and developing new opportunities to provide Webster degrees to students in international locations.
"Webster University's international campuses and our strong partnerships with institutions overseas are key components of our global strategic direction," said President Schuster. "With the continued growth of our operations in Uzbekistan, the partnership with PSB in Singapore we announced this spring, and a number of other possibilities to bring Webster's degrees to global locations, we are meeting the needs of students who are seeking a U.S. degree closer to home. Dr. Guffey's extensive experience in developing and managing international locations and projects makes him the right person for the role of Director General for Global Campuses."
Guffey and the Office of the Director General for Global Campuses will be located in Geneva, Switzerland, on the campus of Webster University Geneva and will report to Vice President for Academic Affairs Nancy Hellerud.
"Geneva is the ideal location for the Director General's office," said Hellerud. "It's Webster's first international campus, established in 1978, with a beautiful campus on Lake Geneva. With three other campuses in Europe – in Athens, Leiden, and Vienna– as well as our campuses in Ghana and Uzbekistan and existing and developing partnerships in Asia and other regions, Webster Geneva's central location will allow us to provide support to multiple locations and to effectively coordinate with academic and administrative units at the main campus."
Guffey will assume the role of Director General on Aug. 2. He will also serve as Acting Director of Webster University Geneva. Of the role, Guffey said, "Webster University's position as an industry leader in global education makes our faculty, programs, and locations highly sought after in our domestic and international communities. I am excited and grateful for the opportunity to continue the development of Webster's global network for student opportunities."
Guffey most recently served as director for Webster University Thailand, also supporting Webster's expansion in the Republic of Kazakhstan, Republic of Singapore, and Republic of Uzbekistan. Prior to Webster, Guffey was the Vice President of Student Development and Global Affairs at Lindenwood University, in addition to associate professor of international relations and chair of the departments of international relations and Chinese studies. He also was selected for a Fulbright Teaching and Consultant Fellowship to Chulalongkorn University in Bangkok, Thailand.
Guffey holds bachelor's degrees in Political Science, Public Management, & Non-Profit Administration from Lindenwood University; a MA in International Politics from the Queen's University of Belfast, Northern Ireland; a MBA from Lindenwood University; a MS in Finance from Webster University; and a PhD in Higher Education from St. Louis University. He is also a graduate of the Harvard Institute of Educational Management program and completed his undergraduate study abroad experience at NYU in Florence.