Elvington Selected as 2021-22 President's Faculty Fellow
The President's Faculty Fellows Program is an opportunity for faculty members to contribute to the leadership of key strategic efforts of Webster University on a part-time basis by partnering with Academic Affairs or its support units. This opportunity allows faculty to work on special projects that are of particular interest and importance that take full advantage of the unique interests, skills, and academic backgrounds of the University's diverse faculty.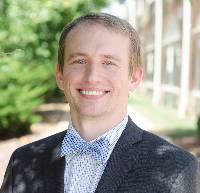 For the 2021-22 academic year, Andrew Elvington, assistant professor in the Department of Biological Sciences, has been selected as a President's Fellow and will partner with the Faculty Development Center on his project "Integrating Canvas Outcomes: Making Assessment More Efficient and Meaningful for Instructors and Programs."
Elvington's project will further integrate Canvas Outcomes as a data collection tool for program-level assessment of student learning. Canvas Outcomes is a tool within WorldClassRoom/Canvas that allows programs to collect assessment data directly within Canvas itself and within the courses where assessment already occurs, using processes that faculty are increasingly familiar with (Canvas rubrics).
When using Canvas Outcomes, programs can create a common set of criteria to evaluate student learning, and then instructors can assess using that criteria at the same time that they are also grading students' work within a course. With support from the Faculty Development Center, the data is then aggregated for programs to analyze the data, reflect on trends, and make adjustments that benefit student learning. This process saves instructors time in performing program-level assessment, and it saves staff, program leads, and chairs time in processing large amounts of data.
Elvington's project will involve implementing Canvas Outcomes within Biological Sciences as a pilot and developing resources related to interdisciplinary use of Canvas Outcomes for use throughout our global network. This work will help streamline and strengthen existing assessment practices and offer new ways for programs to engage their faculty more deeply in the assessment of student learning.