13th Annual Robert Classic French Film Festival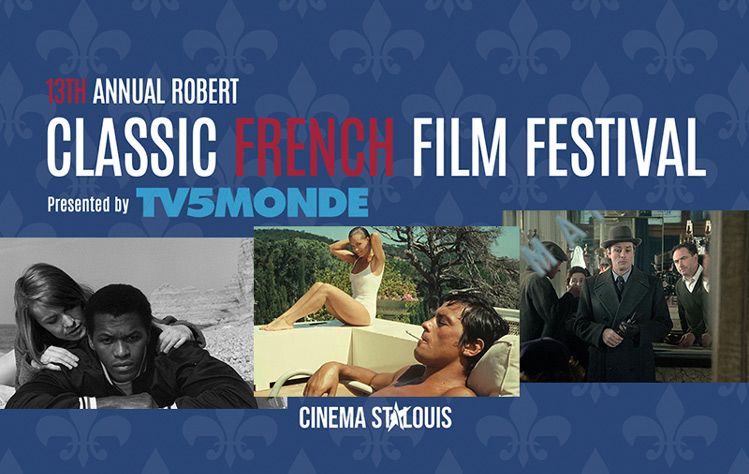 The 13th Annual Robert Classic French Film Festival — presented by TV5MONDE, sponsored by the Jane M. & Bruce P. Robert Charitable Foundation, and produced by Cinema St. Louis — celebrates St. Louis' Gallic heritage and France's cinematic legacy. This year's featured films span the decades from the 1920s through the 1980s, offering a revealing overview of French cinema.
The fest annually includes significant restorations, and this year features a quintet of such works: Melvin Van Peebles' "The Story of a Three-Day Pass," Diane Kurys' "Entre Nous," Joseph Losey's "Mr. Klein," Jacques Deray's "La piscine," and the extended director's cut of Jean-Jacques Beineix's "Betty Blue."
The fest also provides one of the few opportunities available in St. Louis to see films projected the old-school, time-honored way, with Agnes Varda's "Vagabond" screening from a 35mm print.
As part of Cinema St. Louis' year-long Golden Anniversaries programming, which features films celebrating their 50th anniversaries, the fest includes a pair of films from 1971: François Truffaut's "Two English Girls" and Claude Jutra's French-Canadian "Mon oncle Antoine."
Completing the fest is a pandemic-delayed tribute to the late Anna Karina, who died in December 2019: Jean-Luc Godard's essential "Vivre sa vie."
Every program features introductions and discussions by film or French scholars and critics.
All films are in French with English subtitles.
Venue and Ticket Info
Venues:
Aug. 13-15:

Washington University's Brown Hall Auditorium

, Forsyth Boulevard (two blocks west of Skinker Boulevard)

Aug. 20-22 and 27-29:

Webster University's Winifred Moore Auditorium in Webster Hall

, 470 E. Lockwood Ave.
Tickets:
Tickets are $14 for general admission; $11 for students and Cinema St. Louis members. Advance tickets can be purchased through the Cinema St. Louis website.
Passes: Two types of passes are available: Five-Film Passes are $60, $45 for CSL members; All-Access Passes are $100, $80 for CSL members.
More Info: 314-289-4150, cinemastlouis.org
Parking
Washington University: Free parking is available on the street and in the yellow-zone sections of lots along Forsyth Boulevard and in the nearby East End parking facility; no permits are required on weekends.
Webster University: Free parking is available in the lots both in front of and behind Webster Hall; no permits are required on weekends.
Visit the festival page at Cinema St. Louis for schedule, sponsors and more info.