Geneva Student Leader Reflects on Diversity, Equity and Inclusion Conference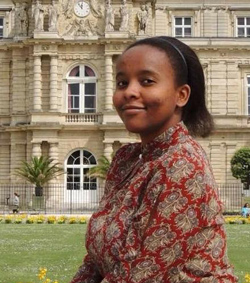 Belinda Mziray, a student leader who studies international relations and finance at the Webster University Geneva campus, recently represented Geneva on a global student panel for the University's sixth annual Diversity, Equity and Inclusion conference. As an international relations and finance student, she is passionate about inclusive financial and economic development, and looks forward to pursuing a career in international development.
Mziray said the conference panel, "Voices for Diversity: Global Leaders, "was a great opportunity, to be part of a discussion that is of great importance to me as an individual and as a student at Webster University. I am glad that at Webster University Geneva, I have capitalized on Webster's global networks to have enriching discussions on issues that carry great importance such as this conversation on diversity, equity, and inclusion in higher education."
"We discussed issues pertaining to race, gender, disability, economic & financial diversity, intersectionality, to mention a few," she said. "The panel was a reminder that diversity is a very broad mix of issues, and that we as a campus need to have discussions more often than we probably acknowledge.
Mziray, who served as president of the Student Government Association at the Geneva campus in 2019-20, is part of the LEADS program and is constantly involved in activities and programs to encourage student engagement in Geneva. The conference provided an opportunity to engage with student leaders and hear perspectives from other campuses.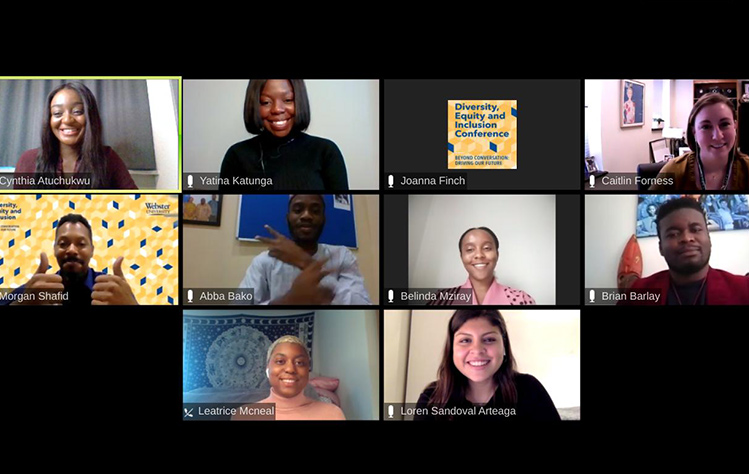 "Through the amazing student leaders from across global campuses represented on the panel, I learned that diversity is not just about having individuals of different backgrounds in one place, it's also about creating an environment where they can thrive and flourish as individuals and as the minority groups they personally identify with."
Such opportunities to meet and learn from those at other campuses are an important part of the Webster global network experience.
"Creating and giving a platform for student leaders to discuss DEI issues and reflecting on the status in their specific campuses, I believe, is one great way Webster including Geneva campus is working towards creating that inclusive and equitable environmental for everyone," Mziray said. "During the panel I shared, listened, and learned. I am looking forward to having more discussions in Webster University and through other external platforms in the future."