Appointment of New Webster Geneva Finance Director
Webster University Geneva is pleased to announce the appointment of Martina Grosol as Finance Director.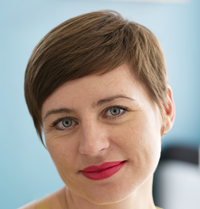 Grosol brings to Webster an enterprising mindset and extensive experience in international contexts. She held several management positions in Accounting and Finance with recent employers, including the Hotel Richemond and the Hotel Royal (Manotel) in Geneva. Proficient in four languages (English, French, German and Slovak), she has worked in the UK, France and Switzerland.
Grosol obtained her diploma in accounting in 2010 and earned solid experience in the hospitality industry as a leader in several key business services such as income audit, cost control and front desk.
In her new role, she will lead Finance and supervise the Student Accounts office, as well as the campus bookstore. She will also be developing new internal audit processes and cost efficiency analyses.
In her free time, Grosol enjoys moments with her husband and children, 9 and 6 year old girls, sharing their passion for nature, meditation, acrylic painting, music, photography and cooking.
The Webster Geneva campus community extends a warm welcome to Martina Grosol.