Webster Ghana Takes ARDN Red Card Pledge to End Discrimination, Violence Against Females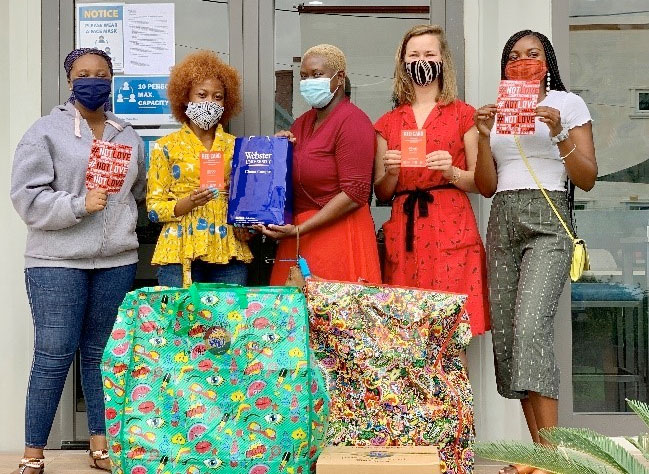 On Feb. 11, the Webster University Ghana Campus, in partnership with African Renaissance Diaspora Network's (ARDN) Red Card Campaign, engaged in conversations around raising awareness and addressing violence against women and girls in COVID-19 response efforts, during their 19th public lecture.
The virtual event, themed "The Rise of Violence Against Women during the COVID-19 Health Crisis: The Economic Impact of Domestic Violence," featured Dr. Angela Dwamena-Aboagye, executive director of The Ark Foundation and Mohammed Rafiq Khan, chief of Child Protective Services for UNICEF Ghana, as panelists. Dwamena-Aboagye, who runs what is Ghana's only well-functioning women's shelter currently, gave a resounding presentation that delved into the availability of shelters and resources to support victimized women transition back to work and employment. Khan examined UNICEF's role in protecting children and mothers facing domestic violence and supporting them to reintegrate into society. He shared data on the rehabilitation processes and services in providing financial stability for mothers and transitioning children back to school in Ghana and West Africa.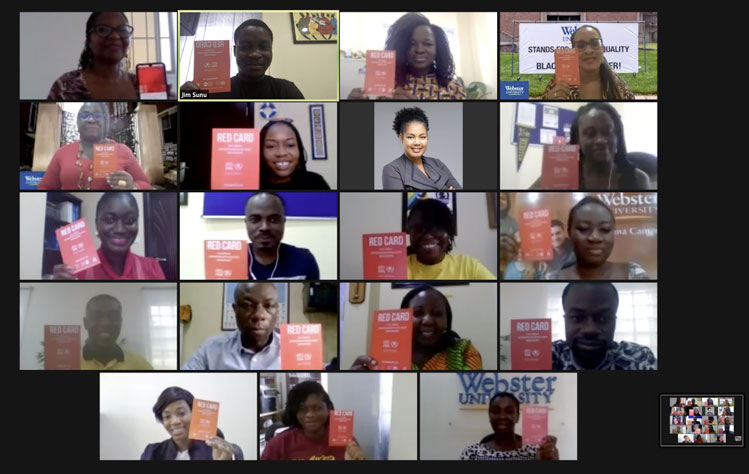 The Zoom lecture event commenced and closed with a moving recorded spoken work performance on the subject, titled Freedom Crown, by Winy Laby, a freshman and Management major from Togo; and gave an opportunity for the over 120 guests to take the Red Card Pledge. All students and staff were encouraged to show commitment to the campaign by signing the pledge in support of #WebsterGhanaPledgesRed in the weeks leading up to this pinnacle day. The day also included a watch party hosted at the new Gorlok Hub recreational center, for students to watch the Summit organized by ARDN themed "Women of the Diaspora Summit on Economic Equity." This was an opportunity to create awareness and empower Ghana campus students, and other from nearby colleges.
Other Efforts
The Students Affairs Office in collaboration with the Webster Givers Club (a student club for community outreach) launched the One Cedi Drive to raise funds to support a domestic violence shelter, Pearl Safe Haven Foundation. The two-week initiative saw jars placed at vantage points across the campus to collect donations from students, staff and faculty. Club members sold home-made snacks like popcorn, ice-cream and cupcakes on campus to raise additional funds.
The Students Affairs Office matched funds raised from the Cedi Drive to purchase all items provided on the shelter's needs list; enough to make a number of care packages for the Pearl Safe Haven Foundation. The Campus also supported the cause, with some Webster branded notebooks, pens, t-shirts and drawstring bags.