Webster University to Launch Honors College with $1 Million Gleich Donation
Webster University is pleased to announce a newly created Honors College, to offer students exceptional opportunities for new academic challenges, research projects and community outreach. The new college will be named the Gleich Honors College, in recognition of Marianne and Peter Gleich, who recently donated $1 million for the project.
Consistent with Webster's guiding principles, the new Gleich Honors College will be a unique program that will be inclusive, diverse, international and connected to the community.
The $1 million donation to found the Honors College will be used to expand learning and research opportunities for all undergraduate students, including international students, those who transfer to Webster, and students at Webster's international campuses.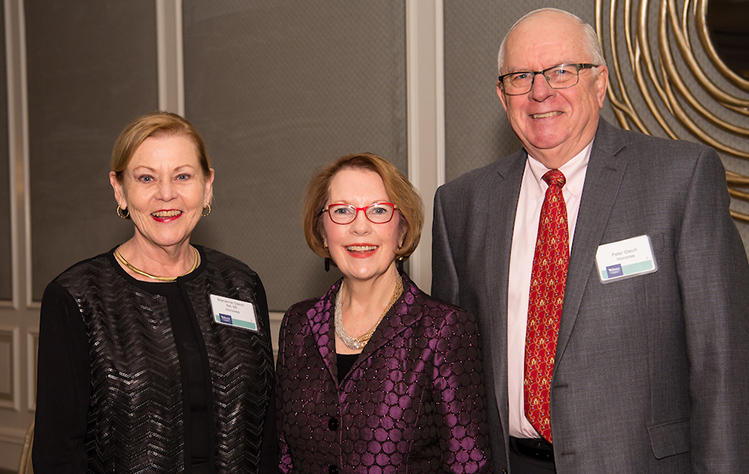 "We sincerely appreciate the opportunity that Webster University has provided us to establish the Gleich Honors College," Marianne and Peter Gleich said in a statement to the University. "We have always felt strongly that education is an extremely important aspect in everyone's life."
"It is exciting to know that this new college will help Webster University students attain their educational goals at an exceptional level. It is our belief that the Gleich Honors College will provide an opportunity to challenge Webster's talented students today as well as tomorrow. Our hope is that others will join in supporting this effort to enhance the quality of education, which is a long-standing hallmark of Webster University."
The Gleichs are longtime supporters of Webster University. Marianne Gleich, an alumna with a degree in French, has been a donor for four decades. She and her husband, Peter, have also established Webster scholarships for French, international business, and study abroad programs.
This program is the most recent embodiment of the Gleichs' vision for expanding exceptional educational opportunities for Webster students
In 2019, the Gleichs were recipients of Webster University's Visionary Award for their long-standing, visionary dedication to Webster and its students and commitment to scholarships and study abroad opportunities.
"The Gleich Honors College will offer additional academic challenges, opportunities for purposeful community engagement, as well as pursuing research that spans various academic disciplines which can be broadly applied to issues of global significance," said Webster University Chancellor Elizabeth (Beth) J. Stroble.
"This program is the most recent embodiment of the Gleichs' vision for expanding exceptional educational opportunities for Webster students. Their generosity assures that Webster University continues to thrive as an institution that meets students' needs and furthers their dreams."
Building upon Impact Scholars
The Honors College concept will meet the University's institutional values of diversity, equity, and inclusivity. It will build upon the existing Impact Scholars program, which for the past two years has connected a diverse group of students with the people and experiences that inspire them to strive for personal excellence in the service of social justice and community service locally, regionally and internationally.
"The Impact Scholars program brings together the best of the students who desire to make a change and an impact during their studies, along with pursuing a degree. I am delighted that the diligent work of faculty and staff on building the foundation for the Impact Scholars Program has generated a strong interest and support among avid and loyal supporters of Webster University," Webster University President Julian Z. Schuster said.
"The generous donation of Peter and Marianne Gleich creates rich opportunities and rewards to these students and greatly enriches their pursuit of knowledge as well as their overall Webster experience. I am thankful to all members of Webster community who made this happen, and grateful for the visionary support of the Gleichs which make dreams of many students a reality."
By engaging talented students in the determination of their own path, the program urges them to think beyond disciplinary requirements
The Impact Scholars program was established in 2018 for undergraduate students in St. Louis. The program seeks students who are notable in diverse ways. It does not automatically select students; rather students must apply to be considered. The program is open to all undergraduates, from freshman to graduating seniors, as well as transfer students.
Transnational Experience and Collaborative Research
In the program, students work together collaboratively and cultivate relationships with different communities, accumulate transnational experiences and practice the intercultural skills required to do so with confidence and sensitivity. Students complete a research project outside their major area of study that requires them to apply different research methodologies to complex problems with the help of a faculty mentor. In the past two years, students have participated in research projects and in collaborative community service projects with local non-profit organizations, such as Bridge Builders St. Louis and Impact.
The students are advised by a committee of faculty, staff and administrators who designed the program with the help of current and former students. French Professor Emily Thompson is the Impact Scholars program director and will continue as the interim director for the Gleich Honors College.
"The Impact Scholars Program creates a space for a diverse group of students, faculty and staff to reimagine the undergraduate experience. By engaging talented students in the determination of their own educational path, the program urges them to think beyond disciplinary requirements," Thompson said.
"More significantly, the Impact Scholars Program prompts students to question how the decisions they make as undergraduates connect them to local and global communities and help them to meet the challenges these communities face. Each student seeks a unique set of skills, knowledge and experience from the program, but the community the Impact Scholars form will ensure that they inspire each other in their creative, ethical and intellectual questioning. Their energy and their vision will in turn help enhance the program and its ability to impact future students."
Application for the new Gleich Honors College can be accessed after a student is accepted to Webster.