In the News: McFarlan on nursing, Cheterian on Armenia, Neale on jazz
Recent news media coverage featuring Webster University community members includes:
McFarlan Discusses Missouri Nursing on KMOV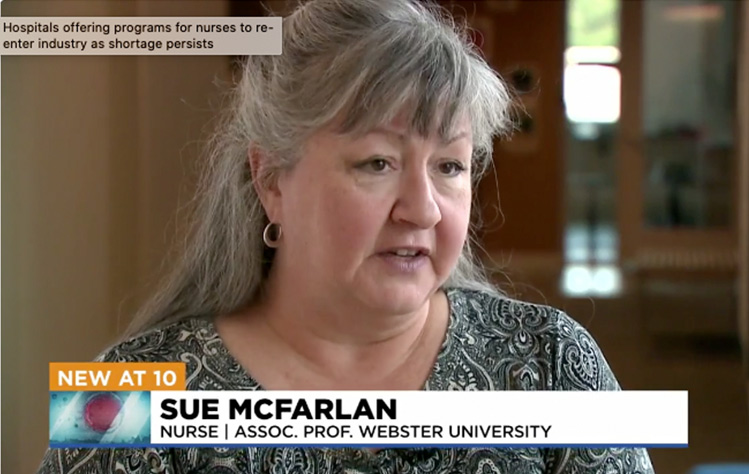 Sue McFarlan, associate professor of nursing, was the featured interviewed on KMOV for a story about nursing shortages and nurse education opportunities. Th segment was picked up by several news outlets across Missouri.
"There's a lot of trauma and stress that nurses have gone through, and of course families and patients have gone through and it doesn't seem to be over yet," McFarlan said in the interview.
McFarlan said interest in Webster's program is on the rise, following a small dip in enrollment in January, though the shortage is a concern for students.
"Our classroom discussions often center around concerns surrounding the nursing shortage as well as new nurses and how we can better prepare them so they're not having some sort of reality shock when they get to the reality of taking care of patients on their own and being responsible for that," said McFarlan.
Cheterian Discusses Elections in Armenia
Vicken Cheterian, who teaches international relations at Webster University in Geneva, was interviewed by Al Jazeera about elections in Armenia and what to expect with Nikol Pashinyan. Cheterian said shifts from the status quo could emerge within the next year.
"After this election, I think there will be at least some more serious attempts to see how the post-war and post-election relations between Armenia and its neighbours will be shaped," he said.
"We will see whether there will be a serious process of normalisation or the opening of borders, communications and diplomatic exchanges or whether we will fall back to the same pattern."
Neale Discusses Musical Projects on KTRS
Adjunct faculty member Steve Neale, a Jazz Singers accompanist in the Department of Music in Webster's Leigh Gerdine College of Fine Arts, was interviewed on KTRS about his many musical projects and his work with the Fox theatre and Webster.