DJ Kaiser Selected for a Second State Department Education Project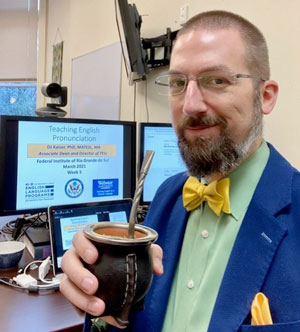 Webster University School of Education Associate Dean DJ Kaiser was selected for the second time to serve as an English Language Specialist for the U.S. Department of State for their Virtual Projects. In this new project, Kaiser is working with English teachers from the Federal Institute of Rio Grande do Sul in Brazil. This project is focused on Teaching English Pronunciation. This month, Kaiser finished a series of five two-hour seminars on Zoom with the first cohort of teachers to participate in this project. He will start with a new cohort of teachers in May, who will go through the same ten hours of instruction and guided practice.
The English Language Specialist Program is one of the premier opportunities for leaders in the field of teaching English to speakers of other languages (TESOL). The program is designed to enact meaningful and sustainable changes in the way that English is taught abroad.
In 2020, Kaiser was selected for a virtual project as an English Language Specialist for a conference sponsored by the Universidad Pedagógica Nacional Francisco Morazán (UPNFM) and the Embassy of the United States of America to serve the needs of English teachers in Honduras adapting their pedagogy to remote and online instruction.
"This particular project has meant a lot to me because my specialty area is teaching English pronunciation and I had a Faculty Research Grant for Brazil in 2016," Kaiser said. "It was a joy to share my area of expertise with teachers in a part of Brazil that I had been to. Drinking mate is a big tradition in southern Brazil and was a custom I acquired when doing my Fulbright in Uruguay. With seminars starting at 7 a.m. in my time zone and 9 a.m. for these teachers, we drank mate together, which brought us closer together."
Kaiser also serves as the director of Webster's Teaching English as a Second Language (TESL) program in the School of Education, and has presented on English language teaching throughout the world. During the COVID-19 pandemic he has continued to reach English teachers internationally through virtual conferences and talks. In December, he delivered the opening plenary for the English Teaching and Learning Conference sponsored by Bukhara State University (Uzbekistan) and the U.S. Embassy Tashkent. In March, he delivered the first interactive live seminar for the English Without Borders Network, a new project sponsored by the U.S. Embassy in Dushanbe in Tajikistan. And in January he led one of TESOL's myTESOL Lounge Live session on ways to model best teaching practices on Zoom, which drew an international audience.
"Right before our third session, the New York Times had a front-page article on Porto Alegre, Brazil and how dire the situation for COVID-19 was in their state," recalled Kaiser. "It became even more important for me to make these seminars fun and engaging, and to help teachers consider new ways teaching pronunciation during the pandemic, while using the work that we do to lift people's spirits. We used Flipgrid to model practices for teaching pronunciation. To make things fun, I asked them all to give me difficult words to pronounce in Portuguese that I had to try out—this evened the playing field because we are all language learners who struggle with different sounds and words."
The English Language Specialist Program was established in 1991 to support in-country, virtual, and mixed projects in which hundreds of TESOL scholars and educators promote English language learning, enhance English teaching capacity, and foster mutual understanding between the U.S. and other countries through cultural exchange. During their projects, English Language Specialists may conduct intensive teacher training, advise ministries of education or participate in high-level educational consultations, and offer plenary presentations at regional, national, or international TESOL conferences. These projects are challenging and those selected represent the best of the U.S. TESOL community. In return, the program provides professional development opportunities to help participants experience different cultures and build skills that can greatly enhance their TESOL careers at home.
English Language Specialists are counted among the more than 50,000 individuals participating in U.S. Department of State exchange programs each year. The Specialist Program is administered by the Center for Intercultural Education and Development at Georgetown University. To learn more about the State Department program, visit elprograms.org/specialist.
To learn more about Webster University's TESL program, visit webster.edu/catalog/current/graduate-catalog/courses/tesl.