Prof. Lee-Johnson Invited Guest Editor for Journal of Asian Pacific Communication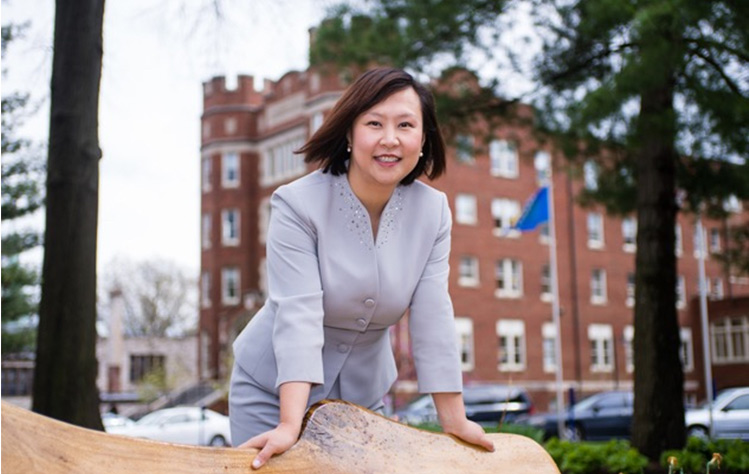 Yin Lam Lee-Johnson, director of Webster University's Doctor of Education (Ed.D.) program and co-director of its $2.7 million U.S. Department of Education grant, has been invited to be a guest editor for a peer-reviewed journal, Journal of Asian Pacific Communication. The journal is published both online and in-print by John Benjamins in the Netherlands, and the journal has international readership.
Lee-Johnson invited Hsiao-Chin Kuo from Northeastern Illinois University as co-editor, and they started to receive abstract proposals in 2018 via professional organizations. The manuscripts went through two rounds of peer-review and the selected articles were published online first in Summer 2020. Lee-Johnson and Kuo would like to thank Herbert Pierson's invitation, contribution of all the authors, as well as the reviewers, Yvonne Pratt-Johnson, Soheil Mansouri, Jaehan Park, Yi-Ping Huang, Amber Warren, Ramin Yazdanpanah, Christy Lao, and Lauren Preston.
The special issue is entitled, "Preparing Teachers for Addressing the Sociocultural Issues with Asian Pacific Immigrants and Refugees." The articles included in the special issue focused on foregrounding the voices and experiences of immigrants and refugees in education. Topics included are: family and community engagement, language and literacy practices in the multimodal era, dialogical approaches and translanguaging processes in the classroom, intersectionality and critical perspectives in teacher preparation, socio-emotional aspects of learning, and healing pedagogies for addressing traumatic experiences.
Lee-Johnson and Kuo co-authored an introduction article, "This is the worst of times; this is the best of times: Juxtaposing the crisis and opportunities for Asians in the global context," in the special issue. The introduction contextualized the identity crisis of Asians in the world due to hate crimes and microaggression against Asians, and introduced the importance of foregrounding Asian voices and experiences amid the spread of COVID-19.
Lee-Johnson, PhD, is a tenured associate professor in the Webster University School of Education.
Information about the Ed.D. program can be found here. More information about the special issue can be found at the publisher's site.