Webster Leiden Youth in Global Affairs Forum: Insight, advice from ambassadors, diplomats, Model UN leader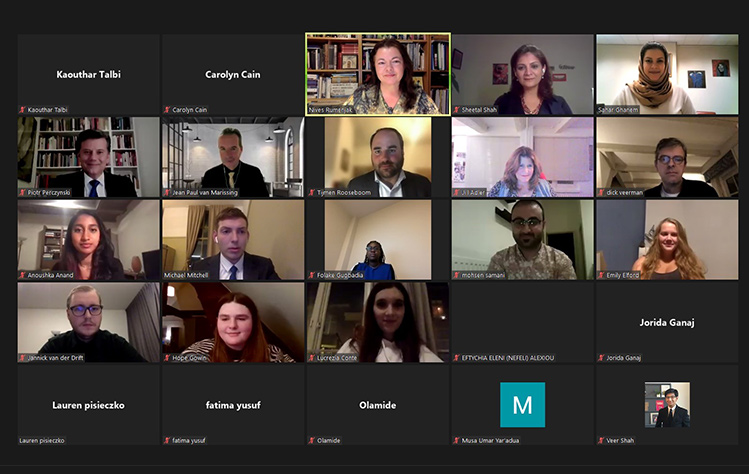 Webster Leiden Campus hosted the highly anticipated online forum Youth in Global Affairs, moderated by Dr. Nives Rumenjak, who has served as the Head of the International Relations Department for the past seven years at Webster University's Netherlands-based campus.
The high profile event included the participation of:
Madam Ambassador Sahar Ghanem, Ambassador Extraordinary and Plenipotentiary of the Republic of Yemen to the Kingdom of the Netherlands, and a Non-resident Ambassador to Sweden and Norway, Permanent Representative of the Republic of Yemen to the Organization for the Prohibition of Chemical Weapons (OPCW);
Tijmen Rooseboom, Ambassador for Youth, Education and Work at Netherlands Ministry of Foreign Affairs
Dr. Piotr Perczynski, former head of the Political Cabinet of the Deputy Prime Minister of Poland, senior lecturer at the European Institute of Public Administration, vice-ambassador for Poland to the Netherlands, and current lecturer at Webster Leiden; and
Anoushka Anand, founder of the MUNWeb 2021 Conference, alumnus of Webster Leiden International Relations program, and current project manager at agriculture-focused NGO known as AgriFood Networks.
The event kicked off with Webster Leiden Academic Director Dr. Sheetal Shah's thought-provoking question to the participants and attendees: Can the advantages of youth be combined with the expertise and wisdom of those experienced?
Insight from the Ambassador of the Republic of Yemen
H.E. Sahar Ghanem serves as a voice for the people and government of Yemen, with a commitment to good governance and social justice. Ghanem spoke on being a political activist and feminist in her youth as her first introduction into politics. She participated in demonstrations such as the Arab Spring, which in turn inspired her to work with the United Nations Development Programme (UNDP). She then went on to become a Youth Representative at Yemen's National Dialogue Conference, a historic conference which served as part of the reconciliation efforts during the political transition in Yemen in 2013 and from there went on to become a diplomat for the Republic of Yemen.
Ambassador's Reflections on Early Career
Ghanem shared that at the beginning, she was often mistaken for an assistant due to her age and gender. She struck an inspirational tone with the audience when speaking upon her hopes for the future and the role that younger generations play, optimistic about the farther reaching platforms and technologies that exist in the modern era and can continue to revolutionize globalization and diplomacy. When speaking on collective issues we face today such as climate change and the pandemic, Ambassador Ghanem believes that the role of youth is to find creative, innovative, and out-of-the-box solutions.
Asked about advice for those starting careers in global affairs, she urged them to be passionate, be humble, and listen carefully and understand the position of others. Diplomacy is about creating bridges, opening channels, and bringing humans together.
Insight from the Dutch Ambassador for Youth, Education, and Work
Tijmen Rooseboom started as a political advisor to the minister at the Dutch Ministry of Foreign Affairs and then went on to work with NGOs and the United Nations before transitioning back to the ministry with his current position.
He spoke on the importance of youth engagement, emphasizing the fact that much of Africa and the Middle East is composed mostly of populations under the age of 35. Given this youthful reality, we must adapt, as it presents both opportunities and challenges.
Before the Covid-19 pandemic, Rooseboom began working on Youth at Heart, a strategy which focuses on education and work. The programs involved have a priority to education, skills learning and employment. There is a major focus on bridging the gap between the skills young people learn and available jobs. Vital to this strategy is the voice of young people.
It makes no sense, he says, to come up with solutions for youth without young people using their voice to talk about their positions in society. He emphasized that work and education are not technical issues, but are about political priorities, i.e. it is about young people feeling as though they are being prioritized and listened to, and that their challenges and opportunities are at the heart of the work their government does.
Recently, the Dutch Ministry of Foreign Affairs launched a Youth Advisory Committee composed of youth from nine countries to effectively commit to meaningful youth participation at strategic policy level as well in the practicality of current programs.
Insight from a Recent Graduate and Model United Nations Secretary-General
Anoushka Anand recently graduated from Webster with a bachelor's degree in International Relations and a certificate in Human Rights. At Webster Leiden, she served as a department assistant and Model UN Secretary General.
Recent Graduate Insights: Model United Nations as Platform for Engaging Youth Innovation
Anand first participated in the Model United Nations (MUN) at the early age of 13. The experience was intimidating and Anand recalled feeling shy and out of her element, too scared to speak in front of anyone for the week-long event. However, she found that she very much enjoyed working behind the scenes on things like speeches and resolutions, where she could brainstorm solutions to the presented issues.
She looked back on the experience with the realization that youth imagination is broad and innovative, saying that solutions posed there were ones she had never heard on the world stage. From this experience, Anand fell in love with Model UN and grew more confident in her abilities. She went on to participate in many more conferences over the years. Through her participation in MUN, she was able to meet prominent representatives on the global stage, and enhanced the general feeling of connectivity with global issues.
As a student at Webster, Anand joined the MUN club as well as helped teach Dr. Jill Adler's course on Model UN. She says it was such a rewarding feeling to see students open up about their opinions and come into their own. MUN is an educational tool which gives participants a fundamental understanding of how the world works and current events as well as understanding culture and speaking diplomatically. She believes this is essential for every young person to understand, and MUN provides a platform to be able to develop such skills.
Next Model UN: April 22-24, 2022
In the wake of the pandemic, Anand served as Secretary General and played a major role in organizing the first Model UN conference hosted by Webster Leiden Campus, known as MUNWeb. Now, as a Webster alum, she is helping to organize the second MUNWeb conference, which takes place April 22-24, 2022, and will also be virtual to comply with COVID-19 restrictions. Applications for delegates run from 1 December to 10 April.
Insights from Former Diplomat of Poland and University Lecturer
Perczynski is a former diplomat of Poland and is currently a lecturer at Webster Leiden Campus. He describes his path to diplomacy where he began as an advisor to the Minister, then an advisor to the Polish cabinet, later heading financial reform in Poland, and finally promoted to Deputy Head of Mission Vice Ambassador of Poland.
Perczynski was approached by a group of students from a local Dutch University of Applied Sciences to learn more about his career path. His approach was to share that his path was unorthodox and was unsure if it would be applicable. He observed that a rather large group of students romanticized the diplomatic field. He expressed to them that, while not everyone will become a diplomat, diplomatic skills and techniques can be applied across a multitude of career paths.
Reflecting on the question Shah posed at the beginning of the forum Perczynski said that youth is a state of mind. It is important that young and old alike appreciate one another and reach across the aisle. He believes we must possess an openness in involving participation for all.
Participate in Model UN and International Relations at Webster Leiden
If you are interested in being more involved in youth participation in global affairs, be sure to check out the MUNWeb 2022 Virtual Conference. Applications are being accepted for delegate members aged 16 years and up.
For updates, follow the Webster Leiden International Relations Department page on Facebook.
Story by Carolyn Cain, Graduate International Relations Ambassador