Scholarship Spotlight: Planning to 'make the world a better place'
Taïra Sow, Michael Mitchell and Brendalisa Karoki were the recepients of Global Citizen Scholarship for Fall 2020 at Webster University's Leiden Campus.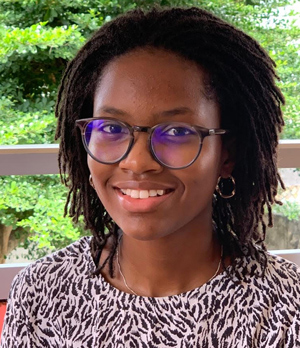 Born in the Netherlands and raised in Burundi, Sow said the scholarship will help her pursue her studies in international relations and ambition to work in diplomacy or international affairs. During a recent interview, Sow shared thoughts on her plans, her inspiration, and what the scholarship at Webster Leiden means to her.
Please tell us a little about yourself.
My name is Taïra Sow and I am 18 years old. I was born in the Netherlands but raised in Burundi in the early ages of my life, I am currently living in Ivory Coast located in West Africa. I am a first year student of Webster Leiden studying International Relations.
How did you hear about the Global Citizen Scholarship?
I heard about the Global Citizenship Scholarship from an email sent by my advisor from the admission office of Webster Leiden.
How do you feel that the scholarship has helped you so far?
Receiving this scholarship has greatly reduced the financial burden on my family, given me peace of mind, and allowed me to continue to pursue my educational dreams. I greatly appreciate the financial support and the opportunity given to me.
Most students do not apply for scholarships because they don't think they will win a scholarship or they think they have poor writing skills. Did any of these thoughts come when you applied for the Global Citizen Scholarship?
Yes, definitely, I was worried about the fact that I might not qualify or be selected. But I believe in trying, because if you don't try you might never discover your full potential. I would like to encourage anyone seeking this scholarship to believe in themselves and seek for support from loved ones, that will be able to contribute through ideas and proofreading.
Your essay strategy worked. How much time did you dedicate to the Global Citizen Scholarship?
I spent about a week and a half preparing.
What personal achievement makes you proud?
My achievements so far have been to make it through high school, to have been accepted at Webster University, and winning the scholarship.
Who is your role model?
Nelson Mandela. His life's journey and values are a representation of how to cope with the eventualities of life. He taught me to never give up on positive reasoning, to be able to forgive, accept and move on for a greater purpose.
What are your plans for the next 5 years?
In the next 5 years, I am aiming to pursue a master's in international relations under diplomacy or international affairs. I also want to continue working within my community, and contribute my quota to make the world a better place.
Tell us about your favorite movie, book, or song?
Although this might not fall under a book, I have recently discovered this lecture by William Deresiewiecz, "Solitude and leadership," and so far it is the greatest essay I fell upon, because it leads to a lot of reflection on how I view both terms and how they both work hand in hand.
What is your favorite quote and why?
My favorite quote is by Lou Holtz [ed. note: Holtz is a former champion coach of American collegiate football]: "It is not the load that breaks you but the way you carry it".
The first time I heard the quote it was worded differently, but still came under the same meaning. Everyone is going through something and is carrying their own loads but it is of our responsibility to not let these load define our journey.