Webster University to Kick-Off School Year with a Make-Up Prom
When the pandemic forced the closure of schools across the country, high school students missed out on landmark life events meant to mark the transition to adulthood such as homecoming games, graduation ceremonies and a prom. This month, Webster University is going to do something about that.
Just days before classes start for the 2021-2022 academic year, Webster will host the "imPROMtu," a prom for all the incoming students who missed out on the high school experience because of COVID-19. Webster's dance will be held Saturday, Aug. 21, from 8 p.m. to 10 p.m. in Grant Gymnasium on the Webster Groves campus. It is free and open to all Webster University students.
"While this was planned with the thought of the freshmen and sophomores who did not have a prom due to the pandemic, it's open to all Webster students because we believe that having more people at this event will just make it that much more fun," said Billy Ratz, director of Parent Engagement and the interim director of First Year Experience at Webster. "We believe that this is a fun way to start the school year while also providing our students with a memory that they will cherish for the rest of their lives."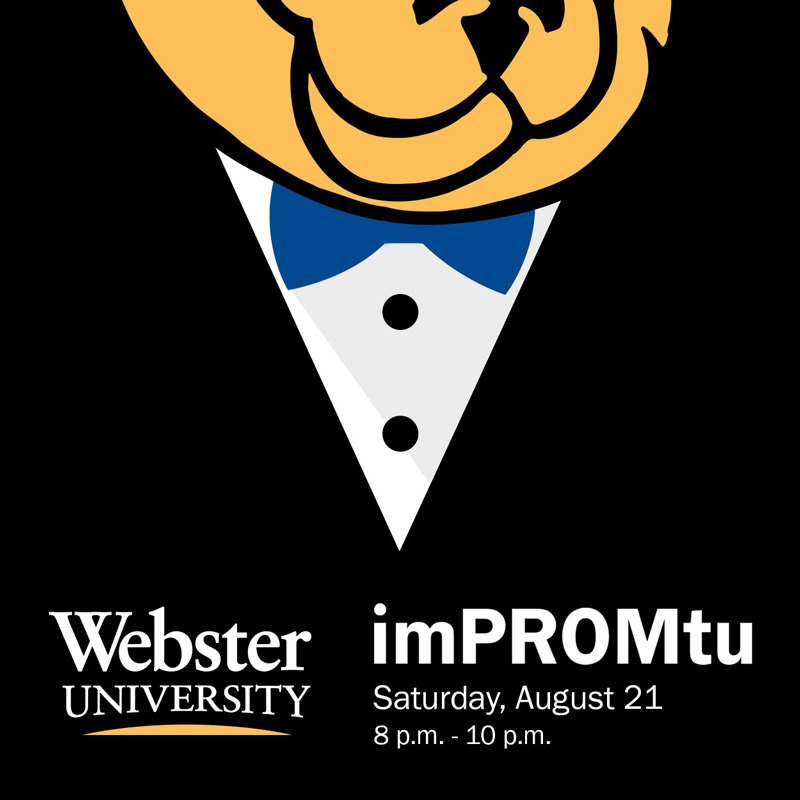 The University has hired a professional company to decorate Grant Gymnasium with the instructions to make it look like a high school prom. The University will also have a professional DJ, a photo booth, snacks, an appearance by the school's mascot "The Gorlok" and even an official punch bowl because, "well, it isn't a prom without the punch bowl," Ratz said.
The dress code will be up to the students. "They can wear tuxedos if they wish, make their own prom clothes out of duct tape, or wear their favorite Halloween costumes," Ratz said. "This night is for them so we will let them have as much fun as they want with this."
The idea originated from a group of parents who were concerned that their children missed out on an event that should have been part of their passage from childhood to adulthood. Initially, plans were made to host a prom last year, but as the pandemic continued to grow in strength, plans were put on hold. Now that all students, faculty and staff at Webster University are required to be vaccinated and a mask mandate is in place, it was determined that it would be safe enough to hold the event this year.
Safety Protocol for Attendees
The event is open to Webster students only, and students will be required to follow current University COVID-19 safety measures. This fall the University requires all students, faculty and staff to be vaccinated against COVID-19 (or be in the process of being fully vaccinated), and currently masks are required to be worn while indoors in accordance with the July 26 order from the St. Louis City and St. Louis County departments of health.
Welcome Week Activities
The event is just two days before classes start for the 2021-2022 academic year and is part of the University's "Welcome Week" activities. For more information about Welcome Week at Webster University, students should log into the Connections Portal and click on the student section of the site.