Fund Recipient Spotlight: Educating hospital staff on PPE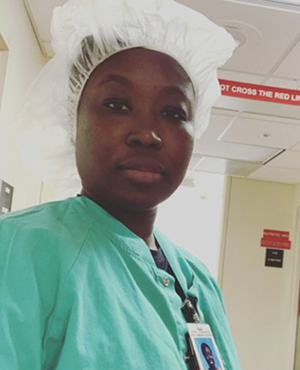 The Front-Line Responders Fund raised over $100,000 to provide financial support to Webster University students who are working in healthcare on the front lines of the COVID-19 pandemic while continuing their studies. In this series, student recipients of awards from the fund share their stories of balancing studies, family, work and more during the pandemic.
Spotlight: Abisatou Herina
Occupation: Quality Management Assistant, Department of Defense MEDDAC
Program at Webster: Master of Health Administration
While pursuing her MHA at Webster, Abisatou Herina was part of a MEDDAC team educating staff on PPE use early in the pandemic. Herina says the grant helped her balance work, family and school.
"During the early stages of the COVID-19 pandemic, my organization created a taskforce to re-educate the hospital staff on the proper use of personal protective equipment (PPE)," she said. "The project was called The Infection Prevention and PPE Awareness. It was a team of four, and together we created a presentation with information about the COVID-19, how it is contracted, how it spreads, and how COVID-19 affects the body and ways to prevent exposure."
We thank Webster for thinking about and caring for their students in the middle of this pandemic.
"This was followed by a demonstration on how to properly put on PPE and in what order," Herina continued. "After the demonstration, all staff members were provided with a clean set of PPEs and they demonstrated to us the proper order to put on PPE. We did this for two months, conducting two or sometimes three classes a day. Ultimately, we trained over 500 hospital staffs.
Herina said their work made a difference.
"We had an outstanding team," she said. "One team member could be demonstrating while another explains the process step by step. We conducted After Action Reviews at the end of every class and used that feedback to improve the class. There was no overstepping of boundaries or hierarchy problems. We worked as one team and in the end, made a big difference in the organization and its staff."
Donor Support Makes a Difference
As a working parent, Herina appreciated the award from Webster's donor-supported Front-Line Responders Fund.
"We are very grateful for your generosity," she said. "The fund has greatly helped me and my family out, with the kids out of school due to COVID-19, the funds went to paying for someone stay home with the kids while I'm at work.
"We thank Webster for thinking about and caring for their students in the middle of this pandemic. I'm proud to call myself a Webster University student."