Fund Recipient Spotlight: 'Our struggles are worth the effort'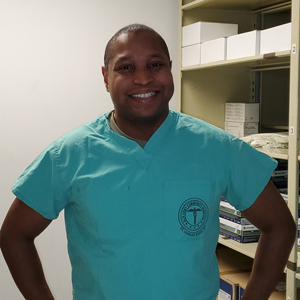 The Front-Line Responders Fund raised over $100,000 to provide financial support to Webster University students who are working in healthcare on the front lines of the COVID-19 pandemic while continuing their studies. In this series, student recipients of awards from the fund share their stories of balancing studies, family, work and more during the pandemic.
Spotlight: Allen Huerta
Occupation: Paramedic Trainer, U.S. Army
Academic Program: Master of Health Administration
When the pandemic began in March 2020, Allen Huerta was pivoted from his position as a First Aid Trainer to work with Fort Leonard Wood EMS, since he is a Nationally Registered Paramedic. It was one of several roles he would serve during the pandemic.
"In addition to running emergency calls, I worked in the Emergency Room with more critical patients as they were brought in from other services or on a walk-in basis," he said.
In June, as operations began to slow, Huerta was moved to the COVID-19 clinic to screen and test individuals thwhoat presented as symptomatic, were identified as a close contact of positive patients, and screen those entering the area from outside of a 100-mile radius. He was also responsible for coordinating the isolation or quarantine of individuals who tested positive or tested negative though presenting symptoms of the virus.
This will help me complete my MHA and look towards a better response, or better yet preventing the next pandemic.
"Working in various positions throughout the pandemic has resulted in a number of new challenges in completing my studies," Huerta said. "Extended hours and the added stress that we are all feeling puts a damper on individual focus and maintaining an adequate schedule."
But support from many, including Webster University donors, has made a difference.
"The support given to frontline workers while focusing on supporting education and our increased responsibility to the public humbles me, and it's hard to briefly express my gratitude," Huerta said. "Daily we can see that our struggles are worth the effort and we can begin painting a better picture of how to prepare for the future.
"This award is going to directly help me complete my MHA and look towards a better response, or better yet preventing the next pandemic."