Video: Raising a Red Card on International Day of the Girl
Webster University marked Oct. 11, the International Day of the Girl, with Red Card Pledge events to advance this global campaign to raise awareness and stop discrimination and violence against women and girls. Launched in partnership with the African Renaissance and Diaspora Network (ARDN), the Red Card campaign seeks pledges to raise awareness of this issue.
On the main campus in Webster Groves, Webster University Chancellor Elizabeth (Beth) J. Stroble and softball coach Katie Griffith were joined by dozens for a kickoff in the Emerson Library. (The event was scheduled for the quad but moved inside due to rain.)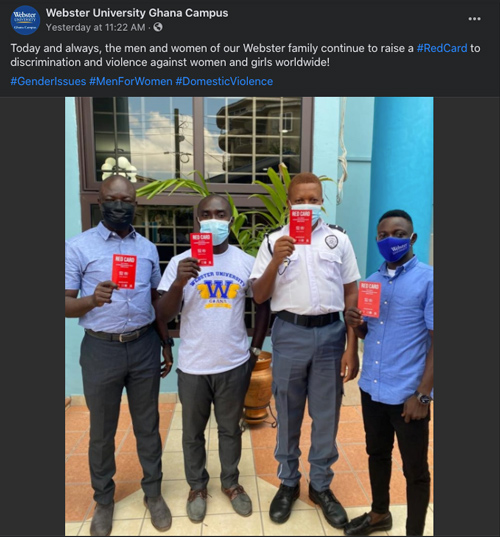 Additional events were held and will be held throughout Webster's global campus network this year, (including the Webster Ghana Campus in Accra, Ghana, pictured at left). Earlier in October, Webster University and the City of Webster Groves jointly proclaimed Oct. 11 Red Card Pledge Day in Webster Groves, with several University staff and student athletes joining Mayor Gerry Welch at City Hall to build awareness.
Below: Members of the Webster LEADS cohort in Webster Groves take the Red Card Pledge.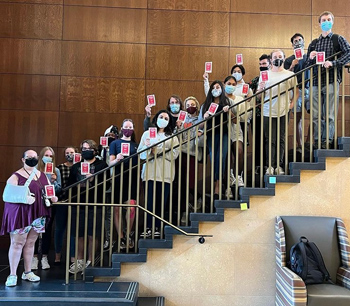 Launched in 2020 at United Nations headquarters with the African Renaissance Diaspora Network (ARDN), the international "Red Card" campaign raises awareness about domestic violence and gather personal pledges from people around the world to prevent discrimination and violence against women and girls. The campaign goal is to achieve 1 million signatures on the pledge to end such actions by the Nov. 21, 2022 FIFA World Cup Tournament in Qatar.