Reeg Donation Enhances Webster University's Academic Resource Center
A $300,000 donation from Rob and Cindy Reeg will expand student services in the Webster University's Academic Resource Center, it was announced today. The center, which will be renamed in honor of the couple, offers resources and support to students to help them achieve academic success.
The Reegs have been longtime supporters of Webster University. Rob Reeg currently serves as chair of the University's Board of Trustees. Cindy Reeg is an award-winning children's book author.
"This generous donation is truly transformational for Webster students, staff, and faculty as the newly-expanded Reeg Academic Resource Center provides needed academic support and resources that help to assure Webster students' success," said Webster University Chancellor Elizabeth (Beth) J. Stroble. "These range from academic counseling, tutoring, writing support, assistive technologies, programs that address specific academic needs, to test proctoring and learning accommodations. Thousands of students rely on the expertise and personal touch provided by the Reeg Academic Resource Center, and this generous gift enables the facilities and services to expand to meet a need.
"Rob and Cindy Reeg saw a community need and met it with their generosity, leadership, and true commitment to Webster students. We are grateful for their lasting impact."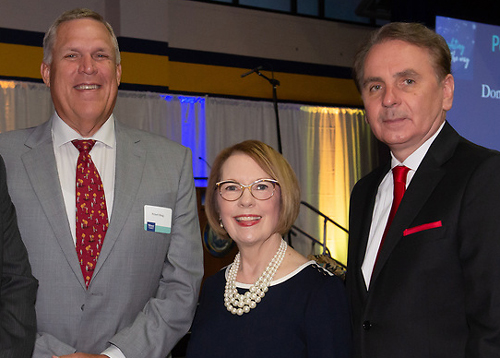 The Reeg Academic Resource Center was expanded during the past year to provide more space, more technology and more meeting rooms for academic counseling.
"The ARC's services and programs are key components of our goal to support academic success and degree completion for all students," said Nancy Hellerud, vice president for Academic Affairs. "This beautiful new and welcoming space allows us to showcase and expand the good work of the ARC staff and the student employees."
The entire cost of the renovation will be covered by the Reeg donation. The Center is located on the ground floor of Loretto Hall on the Webster Groves campus.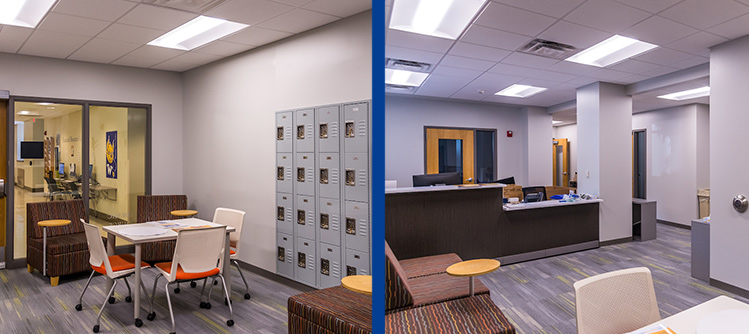 "This generous donation will benefit Webster's students, today, tomorrow and for many years to come. It sends a clear message of Webster being true to its values and reiterates a compelling story of meeting an unmet need," said Webster University President Julian Z. Schuster. "This tremendous support will help prepare students for success both during and after graduation as they move into the workforce and their future leadership positions. The generosity of Rob and Cindy Reeg will pave the road to success for generations of Webster students."
The Reeg Academic Resource Center hosts about 11,000 interactions with students annually, both locally in St. Louis and through virtual interactions throughout the Webster worldwide network. Among the services offered by the center annually are:
Hosting about 3,000 academic counseling sessions.
Providing accommodations to about 150 students with disabilities and other needs for academic support.
Helping students with about 600 requests for accessing technology and virtual resources.
Proctoring exams for more than 2,000 students and community members.
Hosting the Transitions and Academic Prep (TAP) program for about 30 students to help them move from high school or community college to Webster University.
Hosting about 1,000 tutoring sessions.
Providing more than 1,500 writing sessions to assist with essays and other written assignments.
Hosting training and workshops for about 2,200 students and 650 faculty members.
"We appreciate the Reegs' support of the Academic Resource Center and Webster's students," said Erica Ellard, director of the Reeg Academic Resource Center. "Their generous gift has allowed us to prioritize and expand our Testing Center to best provide for students' testing needs – and to add the possibility for expansion of testing services and the potential for greater testing revenue. It has also brought all of our full-time team members into a shared space to better coordinate and collaborate to support students' individual needs while giving students access to more computers and workspace to meet their educational and career goals."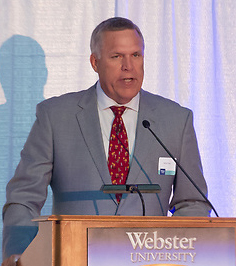 Rob Reeg served as president of MasterCard Operations & Technology until October 1, 2017. In this role, he oversaw the company's transition to digital, the build out of a strategic processing platform, the company's global network, and the security and quality of technology operations at MasterCard. Based in St. Louis, Missouri, he served as a member of the company's Management and Executive committees.
Today, Rob Reeg provides consulting services related to technology, information security, and digital transformation as well as business management. He also serves as vice-chair of the Board of Directors of Jewelers Mutual Group, the Board of Directors of St. Luke's Hospital, and the Board of Trustees for Webster University, and was previously the chair of Junior Achievement of Mississippi Valley's Board of Directors. He received a bachelor's degree from Northwestern Oklahoma State University. Also, he served as a captain in the United States Army Reserve for eight years.
Cindy Reeg was a children's librarian and a tutor for more than a decade. Her writings have appeared in Highlights Magazine, Faces Magazine, Ladybug Magazine and numerous publications, including short story and poetry anthologies. Cindy Reeg's novel, "From the Grave," won the 2017 Zia Award for outstanding children's literature.
She holds a bachelor's degree in English with an emphasis on education and library science from Northwestern Oklahoma State University and a master's in library science from the University of Oklahoma. She is a member of the Society of Children's Book Writers & Illustrators, the American Library Association, and the National Council of Teachers of English.
For more information about the Webster University Reeg Academic Resource Center, visit www.webster.edu/academic-resource-center.