'Global Shanghai Remade' Author Concludes China Urban Studies Series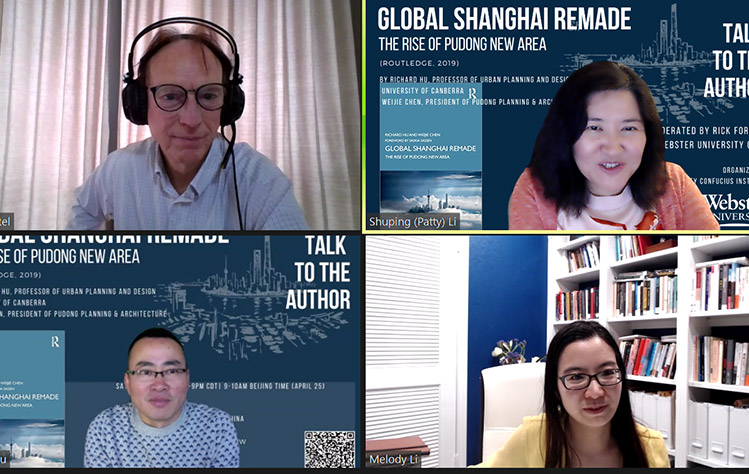 On Saturday, April 24, 2021, Professor Richard Hu of the University of Canberra talked to Webster audiences about his latest book exploring the dramatic rise of Shanghai's Pudong district—Global Shanghai Remade: The Rise of Pudong New Area. This event was the last event of the semester in the "China Urban Studies Author Talk Series," organized by the Webster University Confucius Institute. Engaging and well-received, this talk was moderated by Webster's own Rick Foristel, director of Webster University China.
Professor Hu opened his talk with some background on the global importance of Shanghai proper, detailing its rapid rise from fishing village to commercial and financial hub in the 19th and early 20th century after Sino-Western treaties and new investments opened the city up for trade with Europe. By the mid-20th century, policy changes led to a period of relative decline for the city until the 1990s, when Chinese leader Deng Xiaoping began an ambitious effort to revitalize the city, resulting in the visionary development of the area known as Pudong.
Images from Hu's talk alone can account for the incredible scale of this project: what was an unremarkable stretch of land along the Huangpu River in the early 1990s has now become Shanghai's iconic skyline, which includes the Shanghai Tower, the second tallest building in the world.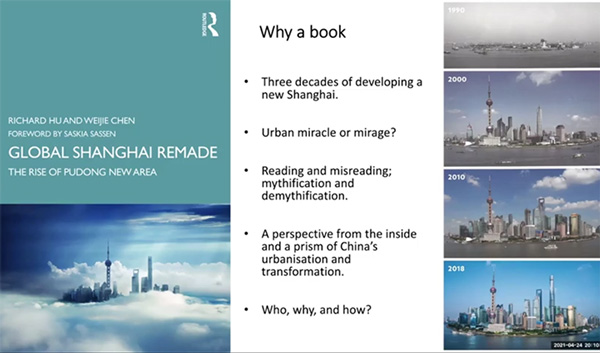 In this fascinating talk, Professor Hu examined some of the roles of key decision makers and the strategic planning process that made this staggering transformation possible, allowing Shanghai to reclaim its status as a highly influential global city.
Following his talk, audience members chimed in with a variety of probing questions. Some focused on the trend of city-building in China as a whole, noting other areas of the country that have undergone similarly rapid growth. Indeed, Professor Hu admitted that ideas are already churning inside his brain for a new book on a project similar to Shanghai's Pudong that was formally announced in 2017, the Xiong'an District adjacent to Beijing.
As a topic with a current dearth of academic research behind it in spite of far-reaching ramifications, the discussion of China's burgeoning planned cities was one that kept the audience captivated throughout the event.
Top image, clockwise from top left: Rick Foristel, director of Webster University China; Patty Li, director of the Webster University Confucius Institute; Dr. Melody Li, professor at the University of Houston; Dr. Richard Hu, event speaker and professor at the University of Canberra