Student Profile: Brian Barlay steps into MC role with Webster Speaks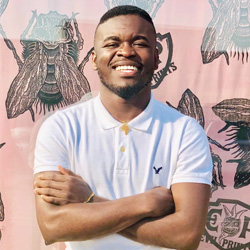 Brian Barlay is already a familiar face at Webster University's Webster Groves campus. As a graduate student pursuing a master's in Management and Leadership with an emphasis in Organizational Development, he's also a graduate assistant in the Office of Diversity, Equity and Inclusion; a member of the Student Government Association (SGA) executive team; and works with programming for both the Suggs Scholars and Student Ambassadors programs.
And now he has taken on another high-profile assignment: the new master of ceremonies for Webster Speaks: Dialogues on RACE, EQUITY and INCLUSION. The series features live discussions with thought leaders within the University and in the wider community, confronting systemic racism issues.
It's a learning opportunity for me be part of something that is so much bigger than myself, and also the topic that we're talking about is so relevant in society.
Webster Speaks
Barlay said that the role fell in his lap when Vincent Flewellen, chief diversity officer for the University, approached him about it. "Vincent said, 'I think you'd be a great fit for this.' And at first, I hesitated because it's such a huge responsibility. But since he's my boss, I was like 'yes, sure, why not, I will love to do it,'" Barlay said.
"As master of ceremonies, I start the show by welcoming everybody and explain the main topics that will be talked about and why they are relevant issues to society," Barlay said. "Also, at the end I help the host by reading the questions that we get from emails, Twitter, and the trend in Webster Speaks. The MC is kind of like an assistant to the host, or a moderator."
Even though he's involved with so many other things, Barlay said he is glad he took on the additional work. "I learned a lot. It's a learning opportunity for me be part of something that is so much bigger than myself, and also the topic that we're talking about is so relevant in society," he said. "And just being there, being around people dedicated to equity and to diversity and inclusion, and to hear them passionately speak about their journey and the ways in which they've been able to create capacity for the various communities that they are part of."
Barlay said that this new role wasn't his first time working with Webster Speaks. "With the initial inception of Webster Speaks, I was there. I was at a few of the meetings where we talked about how Webster needs to do something, needs to be proactive, for us to celebrate the lives and relevance and expertise of Black people, and also document the struggle of black people in St. Louis."
View Barlay in action as Webster Speaks master of ceremonies:
Webster Speaks returns with a new episode on March 24, discussing "Race and Higher Education." To view past episodes, click here.
Diversity, Equity and Inclusion Conference
Barlay was also part of the planning committee for the University's annual Diversity, Equity and Inclusion (DEI) Conference. "We think about the different things that need to be done logistics-wise, and everybody has their own various tasks. We have the people that set up the website, we have the individual that does development, we have some people who reach out to donors and others who reach out to the different speakers," he said.
Barlay's job with the conference was helping Flewellen out in testing all the Zoom links and making sure that the presenters have everything they need. "The past couple of days, we've been doing a lot of test runs with the people who are presenting. We do like a mock trial of how the seminar is going to go on to make them feel comfortable, because not everyone is comfortable with the area of Zoom and technology," he said. "We do that to instill confidence and let them know that they got it, that they can do it, and that everybody's excited to hear their stories."
Another responsibility he has to the DEI Conference comes from his commitment to his role as an ambassador for inclusion for the SGA. "Usually, SGA has a student bazaar that we conduct through the diversity conference, but because of the nature of everything we decided not to the student bazaar. So my team and I decided to make it global and extend the invitation to various student leaders in our global campuses."
Barlay said that the conference being online this year opens new opportunities to get more people involved, not just people from St. Louis. "We're hosting a panel called Voices of Diversity: Global Student Perspective. We have students from Geneva, Vienna, Accra, Bangkok, and Leiden, and then one person from St. Louis. The premise of this panel is to see what diversity encompasses and how people conceptualize it," he said.
"We want to see if the way people talk about diversity in St. Louis is the same way they talk about it in Ghana, or in Leiden. And also, what procedures are there for students to create capacity? What systems foster connectivity and belongingness and make a student feel comfortable on their different campuses?" Barlay continued. "This is an opportunity for them to talk about their story: what the school is doing and how the school is handling everything. For example, St. Louis might be more focused on the issue of race, while Europe might be more focused on the issue of immigration and Ghana might be more focused on the issue of immigration and tribalism. The structural framework of every campus is all different, so I wanted to see what exactly they define as diversity."
'No Stranger to Diversity'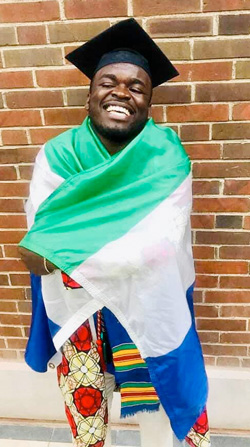 Barlay came to the U.S. from Sierra Leone in the summer of 2010. Growing up in an extended family household of 20 people, each of whom had different personalities, areas of interest, and perspectives on life, Barlay is no stranger to diversity. That is one reason why that when he arrived in St. Louis, he quickly became involved in his community, volunteering for organizations such as International Institute and Action St. Louis, and even founding his own nonprofit, Missouri Young African Professionals. The existence of all these opportunities is one of the things he loves about St. Louis.
"I love the fact that St. Louis is a city in which you can literally create something and can champion that thing that you create, if you have the patience, the tenacity, and if you're willing to do what it takes to move forward," he said. "It's been a journey which I truly appreciate, and I feel like at this point, I am indebted to St. Louis and I want to make sure that I find a way to give back. That's why I always try to volunteer and see if I can create capacity in different communities and figure out ways to help amplify the voices of my brothers and sisters."
I've met a lot of great people here at Webster. My professors are amazing, my classmates are amazing. The friendships that I made and cultivated so far, it's one for the books.
Barlay credits much of who he's become today to his upbringing in Sierra Leone. "It cultivated me to be patient, understanding, compassionate, hardworking, and to keep my eyes at the prize. And the prize is celebration for the various communities that I'm a part of," he said.
It was these values that first attracted him to Webster. After graduating with an undergraduate degree from Saint Louis University in May 2019, Barlay enrolled in the graduate program at Webster.
"Attending Webster has been a once in a lifetime opportunity," he said. "I've had high respect for the fact that Webster's a global campus and it truly embraces the meaning of diversity in every aspect. And the leadership team is very intentional about ensuring that whatever they are doing that it's what the students need or what the faculty and staff need. Questioning how they can create capacity here on campus and ensure that they're not only doing the work of DEI externally, but also internally."
"So, it's been good. I've met a lot of great people here at Webster. My professors are amazing, my classmates are amazing. The friendships that I made and cultivated so far, it's one for the books."