Annual Transition and Academic Prep Program Welcomes 19 Students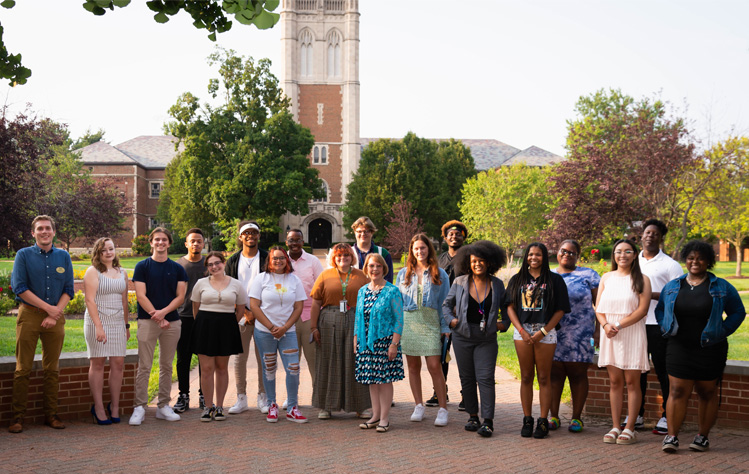 The Transition and Academic Prep (TAP) program is an intensive residential program for Transitions students (those who are conditionally-admitted first-time freshmen or transferring with fewer than 30 credit hours). This year, the TAP program ran from July 18-30, on the Webster Groves campus.
The 2021 TAP cohort included 19 participants, with the program's central component featured PHIL 1010: Introduction to Critical Thinking taught by Stephen Findley, adjunct faculty member in Philosophy. Upon successful completion of TAP, students earned three credits, including credit toward their Global Citizenship Program (GCP) requirements.
TAP 2021 focused on developing critical thinking, research, and writing skills as well as increasing awareness of campus and community resources to support students' overall development at Webster. As in past years, each student participated in individualized student success planning to help frame academic success, interpersonal relationships, wellness, and financial planning.
TAP 2021 Experience
Students met with faculty, staff, alumni, and current students to develop their support networks via panels and workshops. Students were particularly excited to hear from Tyler Worlund, Study Abroad advisor. Many felt that the session helped them see the possibilities of Webster's global offerings and how they can access them. While some students came into TAP feeling hopeful they would one day study abroad, most left feeling like they were beginning to put a definite plan in place to make that hope a reality.

Participants also met with writing coaches to support their PHIL 1010 assignments, financial aid counselors to understand financing college, and academic counselors to map out academic and personal goals for the school year. New in 2021, students also participated in nightly study sessions with TAP assistants to build their academic habits as well as complete the numerous course requirements of a three-credit course taught over a two-week period. Students worked diligently and left feeling confident they are prepared for the rigors of the coming academic year.
The program concluded with a farewell ceremony featuring remarks and well-wishes from Chancellor Elizabeth (Beth) J. Stroble, Associate Vice President of Academic Affairs Nancy Hellerud, Director of the Reeg Academic Resource Center Erica Ellard, Transitions coordinator Zachariah Young, TAP 2019 participant and TAP 2021 assistant Brisa Pintor-Jimenez, and TAP 2021 student Damon Brison.
Feedback from Students
Students came to TAP apprehensive about college and uncertain about the year ahead, especially in light of their prior two academic years being impacted by the COVID-19 pandemic. Overall, students spoke highly of their experience, especially how connected they feel to their peers and the supports they can receive at Webster. When asked if they would recommend TAP, a majority indicated they would promote the program to others.

Students also expressed a tremendous amount of gratitude for their PHIL 1010 instructor, Stephen Findley, and the Reeg ARC staff. The instruction they received either helped improve their writing skills or let them know where they need to seek assistance.
A variety of University contributions help make TAP successful.
Academic Affairs: Funds program costs and tuition for three academic credits
Academic Advising: Assists with student registration and marketing of the program during new student advising appointments
Career Planning and Development: Facilitates a workshop regarding early career planning and services provided by the department
Counseling and Life Development: Leads a session on the emotional rollercoaster of college and resources available to support students
Dean of Students: Leads a session on student conduct and outlines resources for student support should challenges arise while students are enrolled at Webster
Emerson Library: Introduces students to the library and its available resources
Faculty: Meet with students to discuss success in the classroom and answer questions
Housing and Residential Life: Provides two floors of student housing space in Maria Hall, use of residential facilities, and student staff support
Multicultural Center and International Student Affairs: Presents on Navigating the First Year and co-presents with the Office of Diversity, Equity, and Inclusion
Office of Admissions: Communicates the expectation that conditionally-admitted students participate in TAP
Office of Diversity, Equity, and Inclusion: Leads a Diversity, Equity, and Inclusion Workshop
Office of Financial Aid: Holds one-on-one meetings with students to help them understand their financial aid awards
Office of Study Abroad: Hosts a workshop that showcases Webster's international campuses and resources available to help students plan to study abroad
Title IX: Provides information and resources related to the University Title IX office
Other sessions from the Reeg Academic Resource Center
Academic Expectations – Carolyn Brown
Citation Workshop – Carolyn Brown and Kristin Cobos
Reeg ARC Panel – Carolyn Brown, Erica Ellard, Cherie Wyatt and Zachariah Young
Writing Coaching – ARC Writing Coaches
About the Transition and Academic Prep (TAP) Program
TAP was first instituted as part of the larger Transitions program in 2011. Many of the students in the Transitions program, designed for freshmen and transfer students with fewer than 30 credit hours who are conditionally admitted to Webster, are first-generation college students.
The overall goal of the program is to assist these students in navigating college and persisting to graduation. TAP enhances this success, raising the persistence rates of these students – often above first time, full time freshman cohort rates – as the students are better equipped to start Fall courses. Transitions students also have targeted supports throughout their first semesters.