Webster University Named to Transfer Honor Roll for 5th Consecutive Year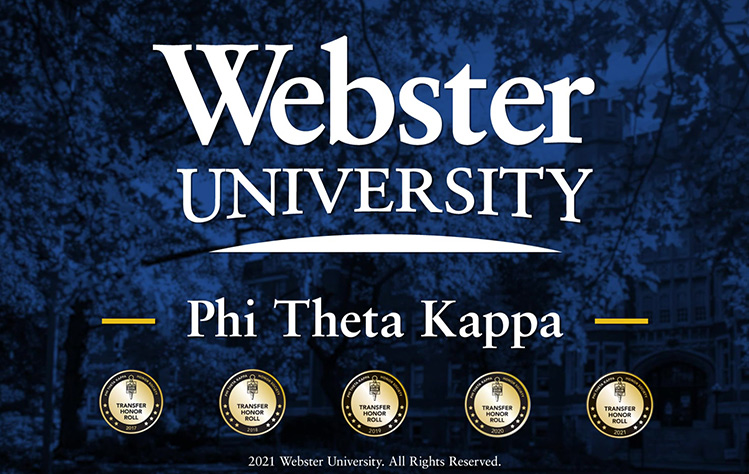 Webster University has been named to the Phi Theta Kappa Transfer Honor Roll for the fifth year in a row. The Honor Roll recognizes colleges and universities in North America that offer additional support and services to college students who transfer from a community college into a four-year program.
Webster University is one of only four institutions in the state of Missouri to be named to the list of 150 top institutions this year. Phi Theta Kappa is one of the nation's preeminent organizations that is focused on recognizing the academic achievements and supporting the scholarship of community college students.
"Webster University has consistently worked with community colleges, locally and nationally, to help their students achieve their educational aspirations by investing into programs and resources that helped ease the transition from one system into another, and once they are at Webster, the academic opportunities for them are incredible," said Christina Gilbert, associate director, Transfer Recruitment and Community College Partnerships.
"Nationally, nearly one-third of all undergraduate students at four-year institutions started their journey in a community-college setting, and that percentage continues to grow. Webster has recognized the needs of these students and is proud that its efforts have been nationally recognized for the past five years. Our inclusion on the honor roll once again is a testament to the hard work of our faculty and staff who support the success of our incoming transfer students. Our students are at the heart of everything we do."
Student Perspective on the Webster Transfer Experience
When I compare my transition to a four-year university to my peers who went elsewhere, I can confidently say that I made the best choice
Recent Webster graduate and Phi Theta Kappa alumnus, Jessica Battle, shared how her involvement in Phi Theta Kappa impacted her experience at Webster: "Phi Theta Kappa teaches students to think globally and act locally," she said. "Webster University has given me the tools to do both.
"One of the biggest strengths of this university is its ability to integrate the experiences of students from widely different backgrounds. I enthusiastically recommend Webster University to transfer students. When I compare my transition to a four-year university to the transitions of my peers who went elsewhere, I can confidently say that I made the best choice. I am proud to have become a Webster Gorlok, and I encourage other PTK alumni to do the same."
Aid and Support for Transfer Students at Webster
Among the programs and scholarships offered by Webster University to transfer students are:
A Phi Theta Kappa Distinguished Achievement full-tuition scholarship is awarded each year to two incoming transfer students who are Phi Theta Kappa members and show high academic achievement and leadership experience.
A Phi Theta Kappa scholarship of $1000 is awarded to all full-time transfer students attending the Webster Groves home campus with proof of PTK membership.
The Chancellor's Transfer Scholarship, a $20,000 competitive, renewable scholarship awarded to full-time transfer students attending the Webster Groves home campus who maintain a cumulative 3.5 GPA.
Dual admission agreements with St. Louis Community College and Lewis & Clark Community College that make it possible for nursing students to be jointly admitted to L&C or STLCC and Webster University and provide the students the opportunity to seamlessly complete a Bachelor of Science in Nursing at Webster University.
Dual admission agreement with Southwestern Illinois College to streamline the application process and make more resources available for transfer students transitioning from SWIC's associate degree programs to a bachelor's degree programs at Webster.
An agreement with The South Carolina Technical College System (SCTC) that makes it easier for students earning associate degrees at SCTC to continue with their education and enroll in Webster University's degree completion programs in that region, without having to repeat general education courses.
A variety of department- and program-level transfer guides developed with area community colleges that outline degree pathways from the associate to bachelor's degree.
A variety of virtual informational meetings as well as phone and video chat opportunities with transfer admission counselors and/or faculty.
Numerous orientation events for transfer students to help with the transition, including the Connection Leaders program, where new students are partnered with peer mentors to assist in acclimating to campus life at Webster.
A Facebook group to help connect transfer students and allow for networking opportunities.
More information about the honor roll and a complete list of all institutions named can be found here. To learn more about Webster's Transfer Students Program, visit webster.edu/admissions/transfer.