Webster Hosts United Nations Day, Honors Student for Refugee Support Efforts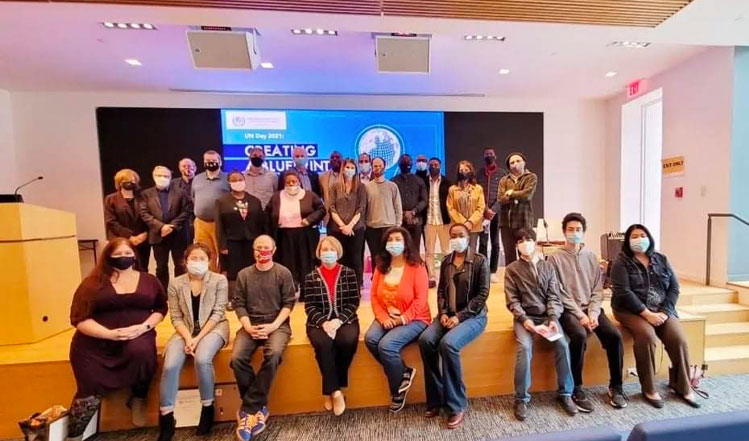 On Oct. 23, Webster University sponsored and hosted United Nations Day, which celebrated the 76th anniversary of the United Nations. Organized by the United Nations Association of Saint Louis (UNASTL), the theme for the event this year was "Creating a Blueprint for a Better Future."
This was the first time Webster University has hosted the annual event in St. Louis. A Webster student also was honored at the event for her work in supporting refugees.
The event featured Chandrima Das, senior director of peace and security policy from Better World Campaign as a virtual keynote speaker. Webster University Chancellor Elizabeth (Beth) J. Stroble spoke to the crowd about the ARDN Red Card project, which Webster University has been a sponsor of for several years. Webster University Chief Diversity Officer Vincent C. Flewellen spoke about Webster's Diversity, Equity and Inclusion efforts. There also was a performance by musician Farshid Soltanshahi.
Webster University, which has campuses on four continents and emphasizes global perspectives in the classroom, hosted the event, said international relations student and chair of the event Igho Ekakitie.
"Getting to share my story, speak on the importance of the UN and why we must work together to achieve the Sustainable Development Goals was very fulfilling for me," Ekakitie said. "We must never forget that the world needs the UN, and the UN needs us."
The event was held in Webster University's Browning Hall on its Webster Groves campus. Approximately 25 people attended.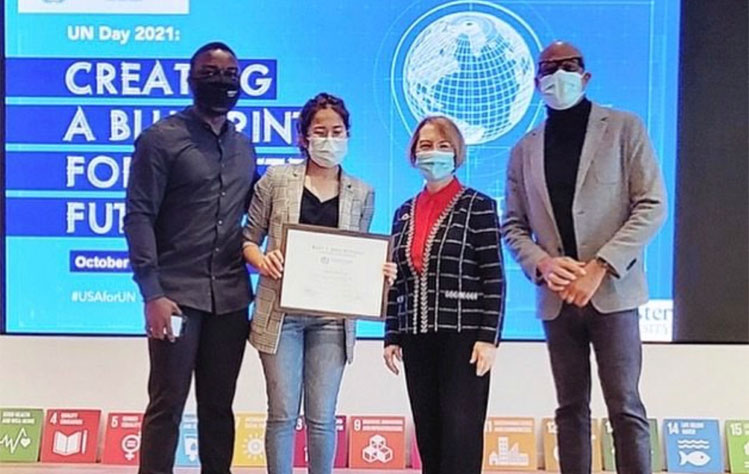 During the event, Fahima Band Ali, a political science student at Webster, was recognized as a "Mary T. Hall Honoree, Emerging Changemaker" (see above photo). The Mary T. Hall Honoree Award recognizes an individual's work in the fields of equity, human rights, diversity, and emerging changemakers. Band Ali was selected due to her work this year to raise awareness of the plight of Afghan refugees and her efforts to raise funds to support the refugees who are being relocated to the St. Louis region.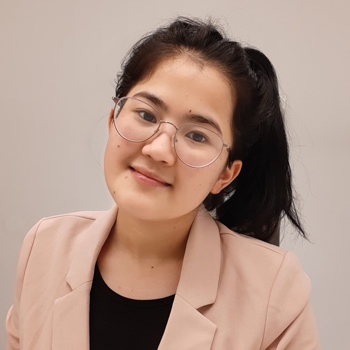 "I am so grateful to be recognized for this award," said Band Ali, who also is earning a minor in international relations. "This award is not about the work that I am doing, but rather represents the endless support that my community and everyone around me is giving to the cause I care about. I am so grateful for the UNA and their commitment to diversity, inclusion, equity, human rights, and advocacy. UN and the UNA work is essential for having an inclusive society and a peaceful world."
"I am proud to be a member of the Webster community that is committed to diversity and inclusion and ending violence against women and girls around world," she added.