Winners of the Webster Vienna 40th Anniversary 'Tell Our Story' Contest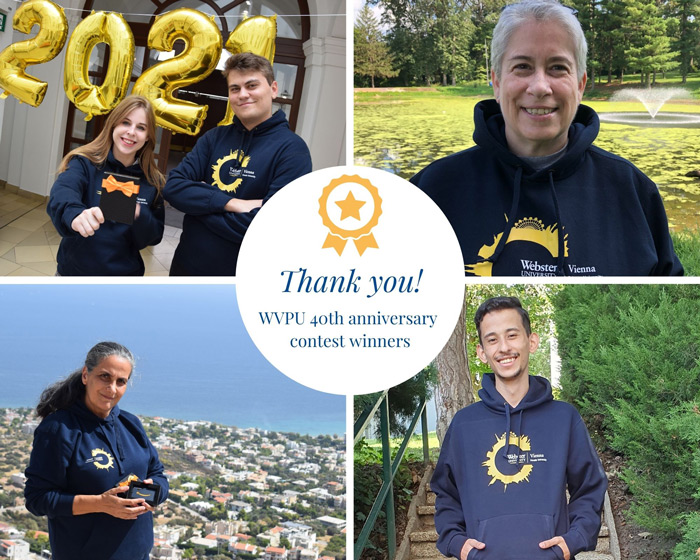 This year, Webster Vienna Private University is celebrating 40 years in Vienna. As part of 40th anniversary events, current students and alumni were invited to "tell our story" through essays and videos, featuring their best memories as Webster Vienna students.
Entries were submitted from around the globe, from both current students and alumni, so the selection process was a challenging one! Once all entries were reviewed, a panel of judges composed of the Marketing team (Nermin Podzic and Mauro Ortiz), the Admissions team (Deidree Diño, Jennifer Millar, Giulia Grasso, and Selyn Gonzales) and Prof. Maria Madlberger (Business & Management Department) selected the contest's winners, as follows:
Essay category:
1st: Anastasia Ioannidis (pictured above, bottom left)
2nd: Robin Blanc (top right)
3rd: Abdelhafid Daibib (bottom right)
Video category:
1st: Anastasiia Hizenko and David Illioski (pictured top left)
First-place prizewinners each received a 300€ Amazon gift card and a Webster Vienna hoodie. Second and third place each received a Webster Vienna hoodie.
Congratulations to all the winners of the 40th anniversary contest and a big "Thank you!" to all participants for their wonderful essay and video submissions.
Webster Vienna Private University will celebrate its 40th anniversary on 21 October 2021. Stay tuned for more surprises!