Webster Vienna Business and Management Department Hosts Student-Faculty Mixer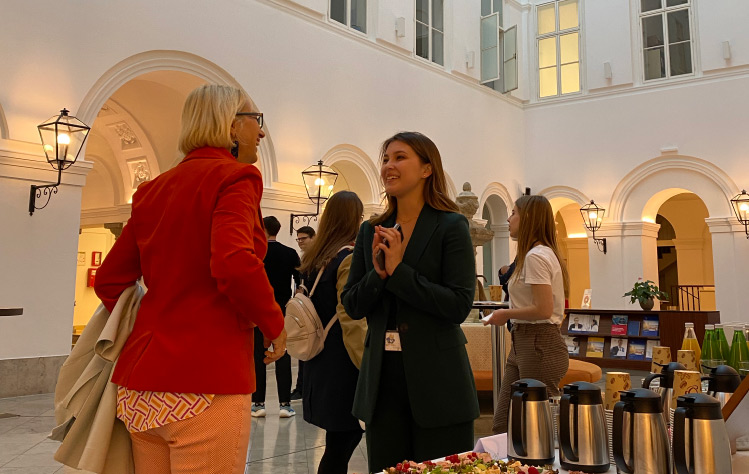 On Sept. 30, the Business and Management Department at Webster Vienna Private University hosted its first mixer for all Business and Management students and faculty.
At departmental mixers, students get the chance to meet other students in their field of studies and professors in a relaxed atmosphere outside the classroom. Participants and hosts were happy to see Webster students back and gathered together for the first mixer this semester.
Prof. Dr. Maria Madlberger, interim head of the Business and Management department, welcomed all students and faculty. Madlberger also presented the departmental news, including the addition of three new courses.
The faculty of the department then presented extra curriculum activities in which students could take part. Valeriia Shchyholieva, Business and Management Student Assistant, and Mykhailo Pliatsun, Student Government Association (SGA) president, introduced the Warwick Economics Summit and the CFA project to new students.
After all of the presentations, students and faculty had a chance to mingle while enjoying tasty snacks.
"Everyone was highly engaged, and I was happy to see a lot of students joining us," Shchyholieva said. "I would like to thank our faculty for sharing this moment with us. It was a great pleasure organizing such an event for the department, as well as seeing how everyone was enjoying the event."
Thank you to all organizers, students, and faculty! We are looking forwards to a fantastic semester!