Humanitarian Challenges, Career Opportunities at Webster Vienna NGO Day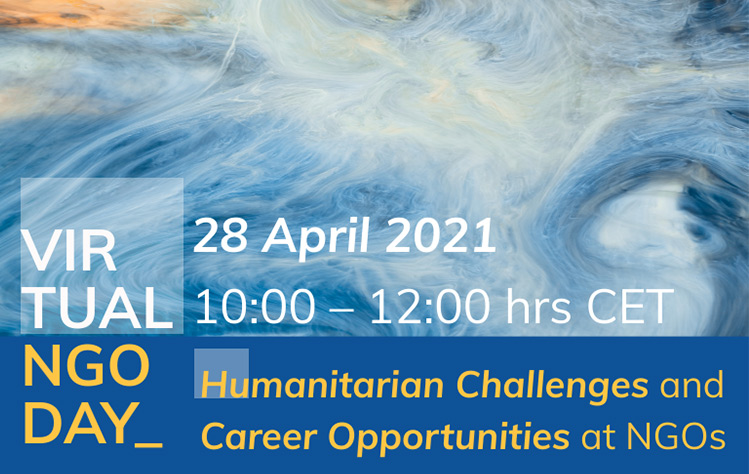 Dozens of Webster Vienna students, prominent NGO representatives and other interested parties interacted at a virtual NGO day co-organized by Webster adjunct faculty member Andreas Papp and Webster Vienna's Career Services.
The event was a major opportunity for Papp's "INTL 2610 - Advocacy, NGOs, and Civil Society, Spring 2021" students to present their final papers to the assembled guests, followed by a discussion on humanitarian challenges and evolving future career opportunities with NGO representatives.
"I had an amazing chance to present my paper named 'Negotiating with armed groups: exploring humanitarian negotiation scenarios in Tigray'," said bachelor's degree student Anja Jungmayr. "It was my goal to share with the virtual audience these controversial issues, concerning the ongoing tragedies in the world and a variety of ways on how to address those critical dilemmas and most importantly, how to help."
Student Johannes Jellenz, who presentd the paper, "Charity vs. Social Business, Quo Vadis NGOs?" said: "I learned from this forum how many NGOs are working, in which environments, and what is the potential in their fields."
Experts from UNICEF, SOS Children's Villages, Caritas Austria, Médicins Sans Frontières, Ashoka Austria
The NGO Day was joined by Christoph Jünger, an executive director at UNICEF Austria, who introduced the UNICEF organization: "Founded right after the Second World War, UNICEF has the purpose and goal to help children in need, outmost in developing countries. The focus lies on the areas of health, hygiene, nutrition, and education."
He was followed by David Katzlinger, head of institutional partnership development of SOS Children's Villages, which aims to improve the situations of vulnerable children, their families and communities through the support of international organizations, multilateral donors, and national public authorities and embassies.
Similarly, Laura Leyser, the general director of Médicins Sans Frontières (Doctors Without Borders), shared how MSF's actions range from emergency healthcare such as surgeries to mass vaccination campaigns and organization or rehabilitation of health facilities.
As head of institutional emergency response for Caritas Austria, Sabine Wartha helps those in need, either by coordinating international catastrophe operations or elaborating on and implementing emergency aid programs: "The money and donations in kind are taking place through social insurance, private donors, foundations, public grants, personal contributions of the beneficiaries as well as Caritas' own funds," she explained.
Georg Schön, co-country director of Ashoka Austria since 2014, concluded the NGO presentation session by sharing the insights on how Ashoka aims to support so-called "Changemakers" by sharing experience, financial means, strategic partnership and know-how in Austria, Poland, Hungary, Slovakia and Czechia.
These NGO presentations were followed up with fruitful discussion and Q&A sessions, where participants were inspired by the views of the experienced and brilliant panelists, debating their views on a variety of controversial subjects that are often ignored or avoided.
The NGO Day was concluded by Nora Binder, head of the Human Resource and Career Services Department at Webster Vienna Private University, and Dr. Samuel R. Schubert, associate director of Webster Vienna, who both shed light on the job profiles and career opportunities available. Schubert's closing words reminded everyone present that today's children are tomorrow's future, and therefore should be given the opportunity to participate and integrate themselves in the work of NGOs.