Students Develop Concept for a Business Start-up Services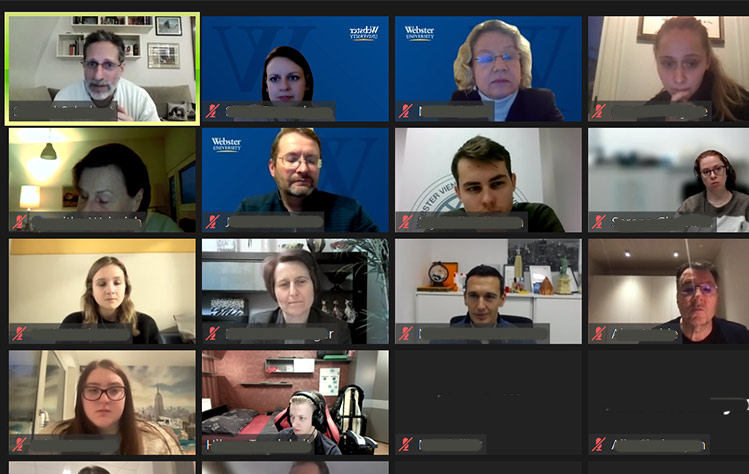 On Dec. 9, Webster Vienna's students presented the concept for a Business Start-up Service, which represented the crown of the multi-month efforts of our students, supervised under the watchful eye of Andreas Papp and in cooperation with Webster Vienna's Career Services.
During the Fall semester of 2021, students of Class 3100/50, in cooperation with Webster Vienna Career Services, have developed a concept for a Business Start-up Service. Many students at Webster Vienna Private University developed business ideas and seized the opportunity to turn their vision into reality. Executive Board, staff and faculty, students, and alumni could not hide their enthusiasm for three pre-defined and presented business ideas.
"WVPU wants to encourage students to develop new ideas, combine it with smart business models, and thus offer additional career opportunities," stressed Andreas Papp, Webster Vienna's Adjunct Faculty.
"The new service aims at sensitizing students to the topic of entrepreneurial thinking and action, with the overall objective to increase and support these activities amongst our community," added Nora Binder, Head of Human Resources/Career Services.
The concept ideas for a Business Start-up Service will be further developed and during the follow-up class in the Spring 2022.
Learn More
Note: A Business Incubator Service is about to be implemented at our campus within the follow-up classes of BUSN 3100 during the Spring Semester 2022, supporting students to become entrepreneurs and innovators of the future, underlining our vision for setting a distinct standard for global education.
Learn more about Webster Vienna's Career Services, which offers a variety of support tools for students, helping to formulate and implement their skillset toward a successful career in a competitive job market.