Webster University Website Wins Nonprofit Communications Award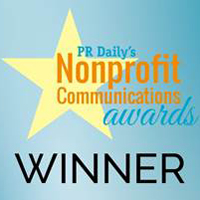 Webster University's website is the winner in the New Website category of the Ragan Communications PR Daily Nonprofit Communications Awards.
Competitors for the awards include not only educational institutions but nonprofits nationwide. Webster is the only higher educational institution to take win in any category of this year's awards.
The site (webster,edu), redesigned and launched in 2020, resulted in a 32% traffic increase while significantly trimming number of pages from the old 7,000+ page site and setting a new tone and unified look for Webster's web presence throughout the global campus network.
Discovery sessions were held at the Webster University main campus and at extended sites in the U.S. More than 200 faculty, staff, administrators, students and alumni took part in the sessions. Focus groups and user testing ensured stronger user engagement and ease of use based upon early design concepts.
Designs were delivered in early 2020 and work began on the new templates for the designs. Constituent groups were updated on progress in several rounds to build internal interest and cooperation for the site launch. Data migration began in the mid- to late-summer of 2020, along with the construction of new pages to enhance SEO.
See a list of 2021 winners in all the awards categories here.