Reeg Academic Resource Center Peer Tutors and Writing Coaches Receive Certifications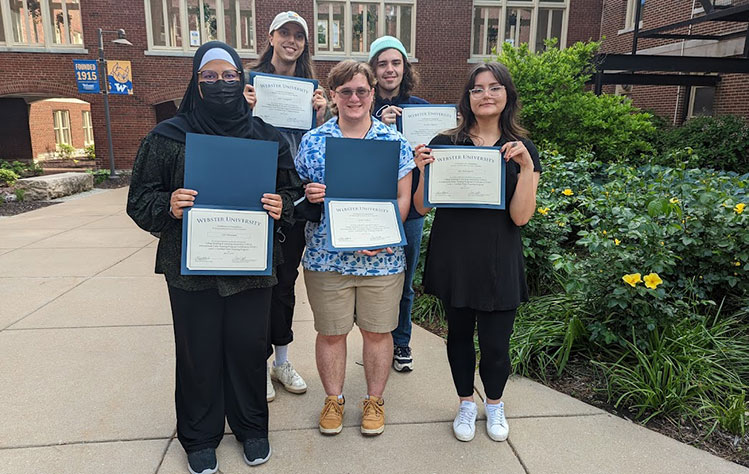 Front from left, Lyla Ghounem, Jacob Trafton and Ajla Sahbegovic. Back from left, Jack Vandegriffe and Fletcher Holbrook. Not pictured, Shelby Morgan and Ashley Raskin
The Reeg Academic Resource Center (Reeg ARC) recognized seven peer tutors and writing coaches for receiving Level 1 individual certifications through the College Reading & Learning Association's (CRLA) International Tutor Training Program Certification (ITTPC). To become certified, peer tutors and writing coaches must complete at least 10 hours of training - an hour each on 10 different topics - and at least 25 hours of actual experience working with students in tutoring or writing sessions.
The Reeg ARC's Tutoring Program and Writing Center received tutor training program certification through CRLA's ITTPC in 2018 to individually certify peer tutors and writing coaches for completing the certification requirements. This group of seven students is the first to receive their Level 1 individual certifications:
Lyla Ghounem
Fletcher Holbrook
Shelby Morgan
Ashley Raskin
Ajla Sahbegovic
Jacob Trafton
Jack Vandegriffe
Many other peer tutors and writing coaches are in the process of completing their certifications.
To recommend a great student to be a peer tutor or writing coach, contact the Tutoring program (tutoring@webster.edu) or the Writing Center (writing@webster.edu).