Webster Student Interns for Congresswoman Cori Bush, Finds Renewed Passion for Public Service
Webster University Political Science major Fahima Band Ali spent June and July interning in the United States Capitol for the office of U.S. Rep. Cori Bush. The first-generation immigrant and first-generation college student described the experience as "unbelievable" for both her and her family.
"My ancestors could have never believed that I would be on the Hill," Band Ali said.
Band Ali, who immigrated to the U.S. from Afghanistan with her family in January 2017, was one of nine congressional fellows chosen from across the country to receive full funding and room and board from the Islamic Scholarship Foundation, an organization with the mission to "amplify American Muslim representation in media and government to improve public policy and public opinion."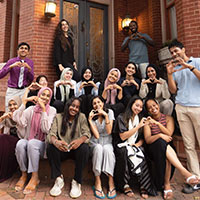 Band Ali and her colleagues, including five more students from the partnering Muslim Public Service Network, lived and worked together in Washington D.C. with the goal of coming together and getting to know each other better across their ideological differences. Throughout their working hours, the fellows took on a broad spectrum of legislative work during what would become one of the busiest – and in many ways most unique – summers in recent Capitol history.
"At Congresswoman Cori Bush's office, I researched different bills, wrote letters and much more," Band Ali explained.
She had the opportunity to research House Resolution 194 – apologizing for the enslavement and racial segregation of African Americans, and wrote letters to the Biden Administration on topics that included abortion rights, the Uvalde, Texas shooting, gas prices and the climate crisis.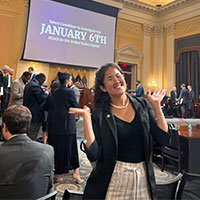 Band Ali was also one of more than 200 congressional staffers who sent a letter to Democratic leadership in the House and Senate demanding they close the deal on a climate and clean energy package. She attended the Jan. 6 Committee hearings, helped Congresswoman Bush with a press conference on Amazon unionization, and attended the Roe v. Wade protest where Bush and her fellow democratic representatives and "Squad" members – Alexandria Ocasio-Cortez, D - N.Y., Ilhan Omar, D - Minn., Ayanna Pressley, D - Mass. and Rashida Tlaib, D - Mich. – were arrested by the Capitol Police.
Such a summer, full of so many national and international crises, as well as the division rife in Washington and around the nation, might have taken the wind out of the average undergrad's sails. Not so for Band Ali, who said she felt more driven than ever given the ultimate learning experience.
"I felt empowered and capable to be on Capitol Hill interacting with Missouri constituents, attending press conferences, meeting policymakers, joining different protests about issues important to me and helping the congresswoman in different ways," Band Ali said.
She acknowledged that not that long ago, all of those experiences were things she couldn't really imagine.
"I was interested in public service and politics when I was in fifth grade," she said, "but even as a child, I knew I could not pursue my dream in a country like Afghanistan because women were discouraged from entering politics."
Her move to the U.S. – and her Capitol Hill experience with Bush specifically – changed everything.
"It was personally beautiful for me," she said. "Honestly, from 2017 to 2020, I felt like an out-of-place immigrant who was helpless and not welcome in this country. Then I went to Capitol Hill."
A place where, as it turned out, a lot can still change in a summer.
Band Ali called the experience a good reminder of "the American Dream."
"I feel hopeful and enthusiastic," she said. "We still have a democratic system where people have power over politics. Change can start with ourselves."