Student Continues Human Rights, Afghan Refugee Advocacy and Fundraising
Webster University student Fahima Band Ali's tireless advocacy for refugees this fall has resulted in significant funds raised to support those resettling in St. Louis from her native Afghanistan, and has garnered her several speaking engagements to raise awareness for human rights and refugee needs.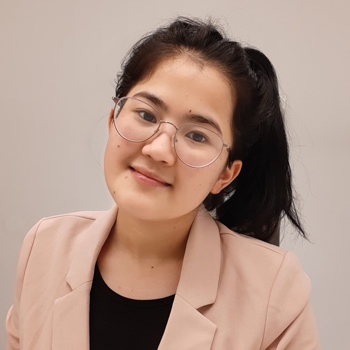 A sophomore from Afghanistan who is majoring in Political Science with a minor in International Relations, Ali acted quickly in late summer when the government of Afghanistan collapsed and an influx of refugees was expected in the St. Louis region. She created a Go Fund Me campaign to raise money for the non-profit International Institute of Metropolitan St. Louis, and a web page with information about her efforts.
Those efforts took off, leading to a successful fundraiser, news coverage of her efforts and awareness about refugee needs, and more.
On Nov. 16, she was invited to speak and thank the Webster Groves Presbyterian Church for their generosity and support toward the Afghan refugees coming to St. Louis. Donations from a group of local churches called "Churches Together for Justice," which includes Peace United Church of Christ, Emmanuel Episcopal Church, Christ Lutheran Church, and Webster Groves Presbyterian Church, raised $8,000 sent to the International Institute of St. Louis. With that collective contribution, Ali exceeded the $10,000 goal set on the GoFundMe.
"It was so meaningful to me to be invited to speak after the service in the morning and with the youth group in the evening," Ali said. "I talked about the situation in Afghanistan, the refugees' status in St. Louis, the International Institute of St. Louis services, and more. I loved their church, the people ... they were so welcoming, warm, and ready to help the community."
Ali was also invited to speak at the Immigrant Service Provider Network 2021 annual conference on "Building Community Trust, Agency, and Allyship," where she shared the challenges that refugees and immigrants face in the USA and what U.S. residents can do to help.
Most recently, on Dec. 9, she was invited to speak on a panel for the Human Rights Day hosted by the United Nations Association of St. Louis. The in-person event was held at the Schlafly Library Branch in the Central West End.