Career Closet Pop-Up Receives Grant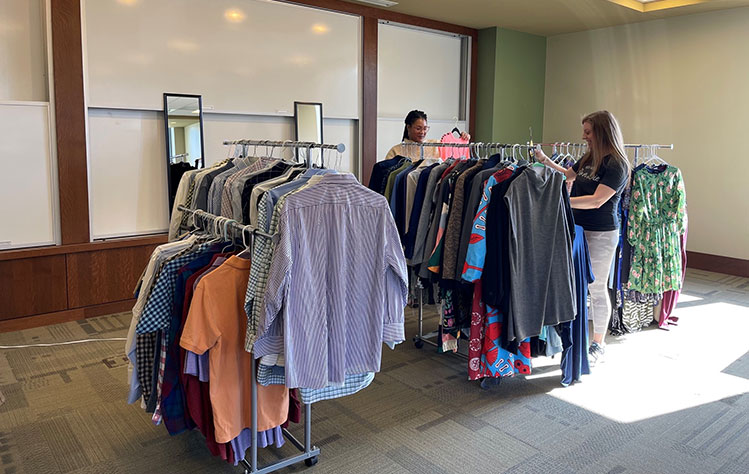 Webster University's Career Closet Pop-Up event, which provides students and recent graduates with professional clothes for job interviews, received a $500 Diversity, Equity & Inclusion Advancement Grant from the Midwest Association of Colleges and Employers (MWACE).
The grant will be used to expand the Career Planning & Development Center program beyond the Webster Groves campus by adding a virtual element to the annual event.
"The Career Closet Pop-Up was established in the Spring 2022 semester with the intention of providing current students and recent graduates from low socioeconomic and diverse backgrounds with access to the professional clothes that are needed in order to be competitive in the job market," said John Link, director of the Career Planning & Development Center. "With this grant, we can explore ways to expand the event beyond the St. Louis region to other Webster University locations across the United States."
Link said the project was established in coordination with Journalism Professor Joy Leopold, Director of Internships for the School of Communications Trezette Dixon, Career Planning and Development Center Assistant Director John Holste, Program Coordinator for the Career Planning & Development Center Logan Politte, Associate Vice President of Diversity, Equity and Inclusion Vincent Flewellen and Legal Studies Professor Anne Geraghty-Rathert.
This year's Career Closet Pop-Up will be held from 10 a.m. to 2 p.m. CDT Friday, Sept. 16, in Room 102 of the East Academic Building on the Webster Groves campus. Besides donating clothes, this year's Career Closet Pop-Up will be held in conjunction with the Career Planning & Development Center's first DEI Career & Internship Fair. During this event, employers will promote open positions while showcasing their commitment to diversity, equity and inclusion through hiring practices, workplace culture, and diversity-focused initiatives and programs. Students can have real conversations about DEI, and learn more about what DEI means to potential employers.
Currently, the Career Planning & Development Center is accepting donations of professional and business casual clothing for all genders, in all sizes. Items should be in gently used, like new or new condition. Please ensure items are undamaged, are clean and ready-to-wear, and free of strong odors, including moth balls, smoke and body odor. Items cannot be returned after donation.
Items requested:
Blazers/sport coats
Suits or suit separates
Dresses and skirts
Pants - trousers, slacks, khakis
Shirts - blouses, knit tops, collared, button-down, polo shirts
Sweaters or cardigans
Ties
Belts

Clothing may be dropped off in the Career Planning & Development Center from 8:30 a.m. to 4:30 p.m., Aug. 8-12 and Sept. 6 at 568 Garden Ave. Please direct questions to John Link, Director, Career Planning & Development Center, at johnlink42@webster.edu.