Career Planning and Development Center Recognized by Handshake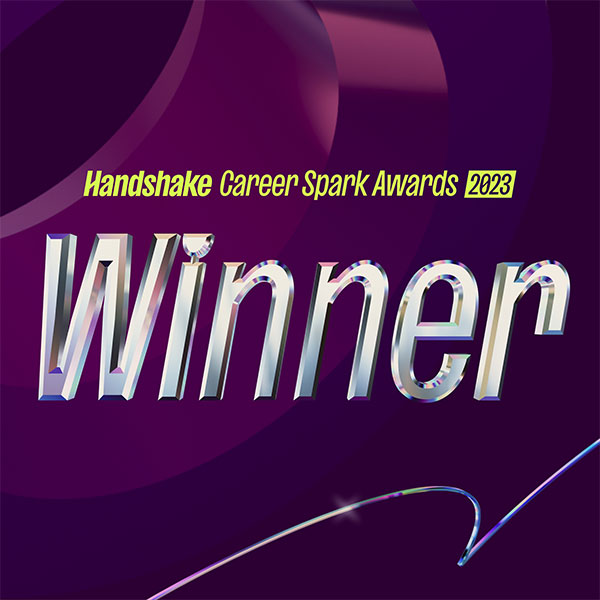 The Career Planning and Development Center was recently awarded a 2023 Handshake Career Spark Award for Employer Engagement and Curation due to the efficiency of the employer approval process and engagement with curated collections. Webster University is one of only 31 institutions to receive an award this year, out of over 1,400 schools.

Career Spark Award winners go above and beyond in supporting the next generation of future leaders in their college-to-career transition and accelerate the Handshake mission to give all students the chance to build the career they want, no matter where they're from or what school they attend. The Career Spark Awards recognize top career centers in three categories—student engagement, employer engagement, and reporting and analytics with only 2% of the Handshake higher education partner network winning an award.

A Handshake Relationship Manager spoke about why Webster's Career Planning and Development Center was selected as a Spark Award.

"Webster's commitment to employer partnerships and sharing those relationships with their students is unmatched. They consistently go above and beyond to cultivate connections that benefit their students and have been champions of the tools in Handshake to elevate those relationships to students."

Webster's Career Planning and Development Center assists students in developing the career readiness skills and confidence necessary to succeed in their future career goals. As part of that, the Center offers students access to Handshake, a premier career management platform for students and alumni. Handshake's mission is to "democratize access to opportunity." Through Handshake, students are able to interact with a variety of employers and identify unique opportunities.

"I'm proud to have our team's effort acknowledged for promoting employer engagement with this inaugural award," said Kerry Lee, interim director of the Career Planning and Development Center.
View the other Career Spark Award winners on Handshake.