CMS Prep Students Wrap Up Academic Year with Concerts, Competition and Outreach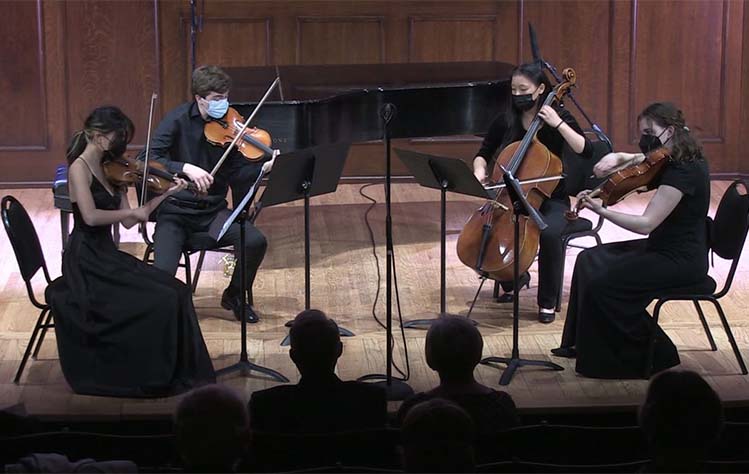 Three groups from the CMS Preparatory Program (Prep) finished up the Spring semester with special concerts, competition, and outreach. Two competition string quartets, The Rader Quartet and the Peccatte Quartet are co-sponsored by the Community Music School and The Chamber Music Society as part of the Rader Young Artist Chamber Program and both quartets were featured in Prelude performances at The Chamber Music Society Concert "It's Still All About You" Part 2. The Rader Quartet was featured at the Prelude performance on April 25th and the Peccatte Quartet was featured at the Prelude performance on April 26th. Click here to view both Prelude performances.
The first brass quintet in the history of Prep (Kruspe Quintet) made it to the quarter finals of the Internationally recognized Fischoff Chamber Music competition in South Bend, Indiana. They were awarded the American Brass Quintet Brass Ensemble Prize for the junior division. Prior to the competition, the quintet played a private concert at the Mason Pointe Retirement Community. "Not only was the music wonderful, but it was also just delightful to see these five young men, so joy filled (and with a purpose) in these troubled times" said Vi Steinmeyer, member of the Mason Pointe Special Events and Lifestyle Enrichment Team.
This year's Rader Quartet also embarked on an educational tour including stops at The Freedom School (TFS) in University City, Missouri and The Lodge at Pere Marquette State Park. A scheduled visit to the Greenville Women's Correctional Facility in Greenville, IL was cancelled due to state prison Covid mitigations in Bond County. Click here for more about the Rader Quartet's educational tour.
The Preparatory Program is an intensive program for developing well-rounded young musicians by offering high-caliber chamber music coaching from professional musicians, performance opportunities, theory, and special events. "All the students in our Prep program are impressive musicians, but these three chamber groups stood out for their hard work. Playing concerts, competing, and doing community outreach takes a lot of maturity and dedication. I'm proud of the example they set this year." says Davin Rubicz, Artistic Director of the CMS Preparatory Program. The CMS extends its special thanks to Vera Parkin, Jessica Cheng, and Julie Thayer for mentoring these three groups.
For more information about the Preparatory Program and auditions for the 2022-2023 academic year, please visit webster.edu/cms and click on Preparatory Program.
The Rader Quartet
Bradley Smith

, violin

Yiyun Xu

, violin

Isabella Pantano

, viola

Natalie Van Winkle

, cello
The Peccate Quartet
Micaela Chyu

, violin

Nathan Bronstein

, violin

Delia Zacks

, viola

Rachel Li

, cello
The Kruspe Quintet
Sean Gallagher, trumpet
Kenny Jackson, trumpet
Roshen Chatwal, horn
Bryce Bernstein, trombone
Logan Mitchell, tuba