Walker School's Cybersecurity Program Recognized Among Most Innovative in the US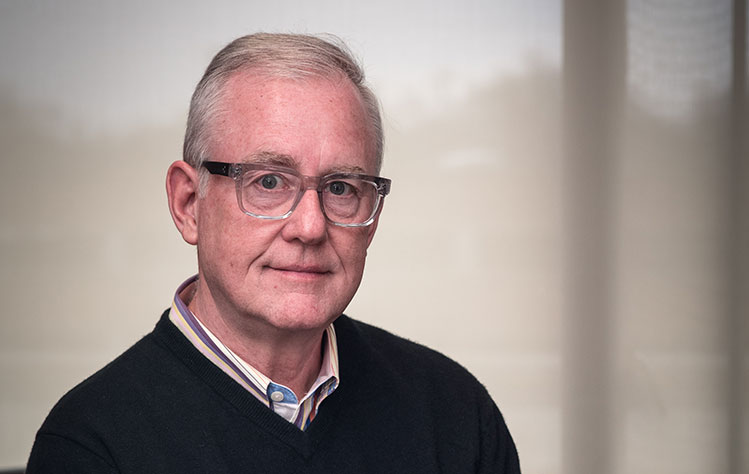 Webster University's Cybersecurity program in the George Herbert Walker School of Business & Technology was recognized as offering one of the most innovative instructional methods among cybersecurity programs in the United States by the National CyberWatch Center.
The award was announced during the sixth annual 2022 Innovations in Cybersecurity Education program hosted by the National CyberWatch Center on Sept. 28.
"This prestigious recognition validates the realism and quality of our cybersecurity programs," said Professor James Curtis, chair of Webster's Department of Math and Computer Science. "Enabling our students to develop real-world scenarios, where they learn to appreciate the social engineering impact upon individuals, organizations, and governments, is the most effective method on their journey to become information security professionals."
Webster's program uses unique scenario-based projects that put students into a realistic environment where they assigned a target – such as an individual or an organization – and developed a social engineering plan against that target. The students are instructed on how to apply open source intelligence, pretext planning, messaging strategies, resource planning and a selection of the appropriate social engineering techniques. They then operationalized all of what they have learned to develop an overall attack plan against the target. They presented their plan for peer review and assessment using criteria such as realism, timeliness, innovation, resource allocation, costs, return on investment and likelihood of success.
In selecting Webster's Cybersecurity program for the honors, the National CyberWatch Center quoted the objectives of the social engineering project by saying, "This multiple project program with three tiers of targets (individuals, organizations and nation-states) enables students to simulate the gamut of social engineering, and aides them to analyze the ethical and social implications of this key element of cybersecurity. And through this real-world activity of "putting ourselves into their shoes" process, we enable a comprehensive understanding of the social engineer's plans, concepts and techniques in action."
The full National CyberWatch Center's Cybersecurity Education Awards can be downloaded for free by registering on the event website. Webster's program is summarized on pages 11-13.
Webster University offers several tracks in Cybersecurity, including graduate, undergraduate and certificate programs at multiple locations and online.