David Blazer Named Project Manager for Strategic Enrollment Initiatives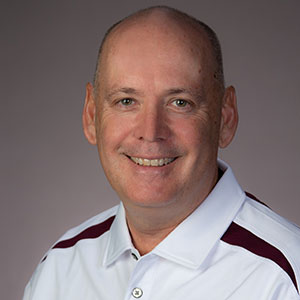 David Blazer was named project manager for strategic enrollment initiatives, a new position at the University. He will collaborate with several University departments to ensure a consistent and unified strategy in all communications that impact enrollment. He will report to Vice President of Business Development Dawn Jensen.
Blazer also will act as a liaison between Business Development, the Office of Corporate Partnerships, Global Marketing and Communications, Admissions and University leadership. He starts immediately.
"David brings with him decades of experience in both private industry and higher education where he oversaw strategic efforts to broaden public outreach, bring consistency to marketing efforts and improved the customer service experience," Jensen said. "I look forward to working with David and finding new ways to optimize our strategies."
In his new role, he will:
Assist Jensen with increasing and enhancing corporate partnerships and business development;
Serve as a liaison between the Office of Corporate Partnerships and Enrollment Management on cohort enrollment;
Provide oversight and direction for developing scripts, presentations and other enrollment programming for prospective and incoming students to ensure consistency in messaging and work with Global Marketing and Communications to determine that the language used is clear and reflects Webster's value proposition;
Assist with developing marketing and communications strategies for new student enrollment for the Webster Groves campus, extended campuses, online, continuing education and corporate cohorts;
Assist in the developing a long-range strategic recruitment plan to enhance and grow enrollment;
Assist extended campuses on recruitment, marketing and communication plans via SLATE (CRM) to increase enrollment.
Blazer comes from Texas A&M University, where he has served as the program coordinator for the College of Veterinary Medicine Continuing Education for the past two years. He previously worked at University of Texas-San Antonio, where he held positions in the Vice President of Student Affairs and the Provost's Office. Before that, he was the executive director of Summit Christian Center in San Antonio.
Before entering academia, Blazer served as vice president of creative/business development at SRO Associates and as the entertainment manager for Six Flags Theme Parks, where he won eight national awards for his work.
Blazer has a bachelor's in music education/vocal performance from Missouri Baptist University, a master's in human resources from Ottawa University and a master's in higher education leadership from Missouri Baptist University.
"I'm excited to be back in St Louis and to join the Webster University community," Blazer said. "I'm looking forward to collaborating across campus to help spread the word about the truly transformational education Webster provides to students across the globe."