Webster Awarded $25,000 Grant to Fund Early Literacy Project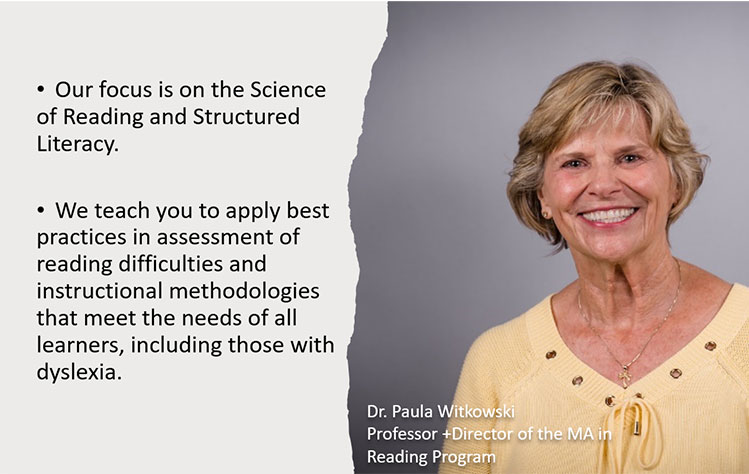 Webster University's School of Education recently received a $25,000 grant from the Missouri Department of Elementary and Secondary Education to fund an early literacy project entitled: Bringing the Science of Reading to Pre-Service Teachers (BSR) — Theory to Practice. The project will officially take place during a five-week period in June and July 2023.
Paula Witkowski, director of Webster's Master of Arts in Reading program and lead investigator for the BSR project, noted that while Webster teacher candidates are well-informed of the theories of how to teach reading, they require more opportunities to practice these theories in the classroom. The BSR project grant will allow twelve of the University's teacher candidates to apply their knowledge by collaborating with certified teachers in the Webster Groves School District during the district's Summer School Reading Academy (SSRA) for struggling Kindergarten through sixth grade students.
The mutually beneficial partnership will also support The Webster Groves School District by providing extra assistance to its teachers and students. In addition to the summer experience, the BSR project will offer a two-day training seminar for both teacher candidates and assigned classroom teachers prior to the beginning of the Summer program. The seminar will focus on the "Science of Reading" and structured literacy methods.
"The Science of Reading is a term that refers to decades of research about reading," explained Professor Witkowski. "This research has shown consistent findings about how we learn to read and how reading should be taught. While this information is the foundation of the curriculum presented across all three of Webster's required reading methods for teacher candidates courses, the candidates need enhanced opportunities to practice what they have learned. This grant meets that need with real-life classroom experience."
The program will conclude with an in-service opportunity for all elementary teachers in the Webster Groves School District to share their experiences and report on the success of the program.
The BSR project is expected to affect 130 students attending the SSRA in 2023. The reading growth of participating students will be monitored to assess the program's effectiveness. Such insight will inform sustainability of the BSR project for the future.