Jennifer Bell Appointed the Director of Financial Aid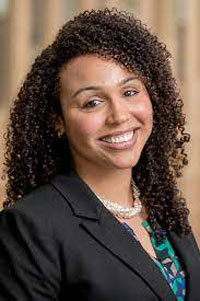 Jennifer Bell is the new director of Financial Aid for Webster University. Bell has 13 years of experience working in financial aid offices in higher education. She also has experience serving as advisor or on committees for numerous organizations that address issues of diversity and inclusion.

She starts her new job on June 1.
"Jennifer's experience in financial aid and her interest in issues surrounding diversity make her an exceptional match for Webster University," said Vice President of Enrollment Management Lisa Blazer. "I welcome her to the Gorlok family and look forward to working with her to find new ways to serve Webster's students."
Since 2015, Bell was the associate director of Advising, Office of Financial Aid and Scholarships for the University of Oregon. Before that, she served as the director of Scholarships and Recruitment in the College of Engineering at the University of Iowa, and as a financial aid counselor, scholarship coordinator and employment coordinator at the University of Northern Iowa.
Diversity, equity, and inclusion have always been at the core of her work as a higher education professional. At the University of Northern Iowa, she served as the advisor to the Black Student Union; in addition to serving as a member of the Jumpstart Planning Committee, which is a transitional support program for students from historically minoritized communities; and as a member of the Veterans Student Services Committee. Other related experience includes serving on the Student Services and Enrollment Management Diversity Committee at the University of Oregon and serving in the 2019-2020 cohort of The National Association of Student Financial Aid Administrators (NASFAA) Diversity Leadership Program.
Bell's committee work reflects many of Webster's core values. For the past 30 years, Webster University has been listed among the top 10 of all institutions of higher education in the United States, and among the top three of all independent, non-profit institutions, for conferring the most master's degrees on Black students. Webster University has invested in many diversity and inclusion programs and hosts an annual Diversity, Inclusion and Equity Conference. In addition, the University has a history of serving members of the military and their families that can be traced to World War I. Among its military achievements, Webster raised record amounts of war bonds during World War II, created programs aimed at helping returning Vietnam Vets transition into civilian life during the '60s, and was among the first institutions in the United States to offer college classes on military bases.
Webster also has a national reputation for serving first-time college students, with an emphasis on those students who are from households that make less than the national average. Webster has been recognized by several national organizations for services offered to first-generation and under-served students. More than one-third of Webster undergraduates self-identify as first-generation students. Nearly 97% of all Webster undergraduates receive some form of financial assistance to attend college.
"I am excited to have the opportunity to work for an organization whose values align with my own. I look forward to positively impacting the Webster University community as I take this next step in my career." Bell said.
Bell has a bachelor's in business administration from the University of Dubuque and an MBA from the University of Wisconsin – Whitewater.