Webster School of Education Doctoral Candidates Present at Hybrid Research Seminar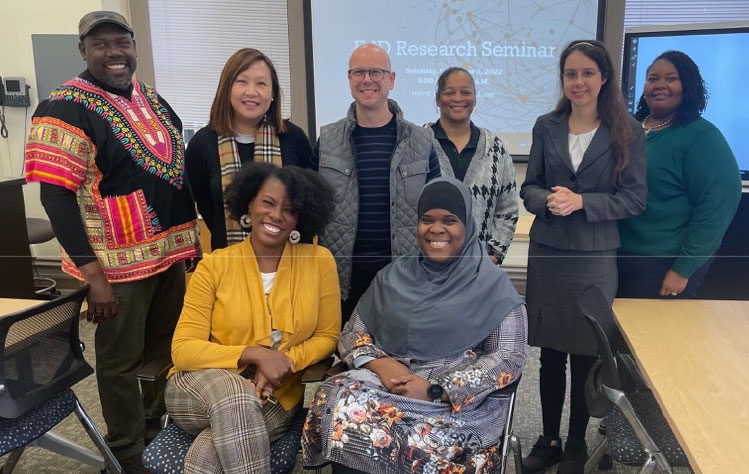 Webster University's Ed.D. Director Yin Lam Lee-Johnson and Research Assistant Mary Rose Reynolds hosted a Research Seminar Nov. 5 for third-year School of Education doctoral candidates Chavon Curry, Ruby Parks, Kerri Fair, Trezette Dixon and Tamara Rodney, who presented on their dissertation projects during the event.
Invitees to the hybrid event, conducted both in-person at Webster Hall, as well as via Zoom, included the candidates' dissertation chairs and committee members, other faculty members, and first-year students new to the program.
The seminar began with introductions and a report on recent research outputs and publications from the School of Education. The doctoral candidates then presented their research progress, including questions and methodologies.
After the presentations, an interactive question and answer session gave candidates the opportunity to expand on their topics and share their experiences of the IRB approval process. Other aspects relevant to collecting their research, especially as compared to the strategies used during the peak of the COVID-19 pandemic, were also discussed. Several of the candidates remarked on how refreshing it was to have the opportunity to emerge from their own work and learn about their peers' research and writing.
"Even though we talk a lot and see each other on Zoom, we don't actually see what the others are writing," Dixon said. "This was so nice to see what everyone's really working on."
"I found the research presentation event to be incredibly valuable both in terms of understanding the meaning and implications of my peers' research, but also in terms of connecting with the scholarly community at Webster on a personal and professional level," Parks noted.
Director Lee-Johnson and faculty peers commended the doctoral candidates for their "authentic application of theories in practice" and ability to "showcase their dissertation projects with a scholar-practitioner framing and an inquiry of practice that is transformative and impactful in their fields."
The presenters' topics were as follows:
Chavon Curry: Leading Through Trauma: An Exploration of Social Emotional Leadership Practices That Optimize Effectiveness in Urban Elementary School Leaders
Ruby Parks: How Excellent Academic Advising Relationships Influence Academic Identity Development
Kerri Fair: Stories Most Difficult to Tell are the Most Vital to Share: A Phenomenographical Investigation of Teacher Burnout Theories and Narratives
Trezette Dixon: A Fork in the Road to Graduation: Understanding the African American Undergraduates Decision on Whether to Participate in Academic Internships
Tamara Rodney: Researching Whiteness
The Ed.D. program at Webster University is designed for preparing well-rounded educator-scholars who are working professionals in the education field — those who have the passion and competence to make a difference in this world through scholarship and service.
More details about the program's recent accomplishments can be found here.